Master Member
RPF PREMIUM MEMBER
Hello everyone,
After a long period of redesign and prototyping, I am now excited to announce that I am finally ready to start signing people up for my Luke ROTJ Hero saber kit.
If you're not caught up on the design process that this project has undergone, you can check out the backstory here.
Hello everyone, This post has been a long time coming. About a decade ago, I did my first lightsaber run here on the RPF, releasing what was then, and I believe still is, the most accurate Luke ROTJ hero saber kit ever produced. It was the first saber to have the appropriate scale, the...
www.therpf.com
And finally, here are some pictures of the finished prototype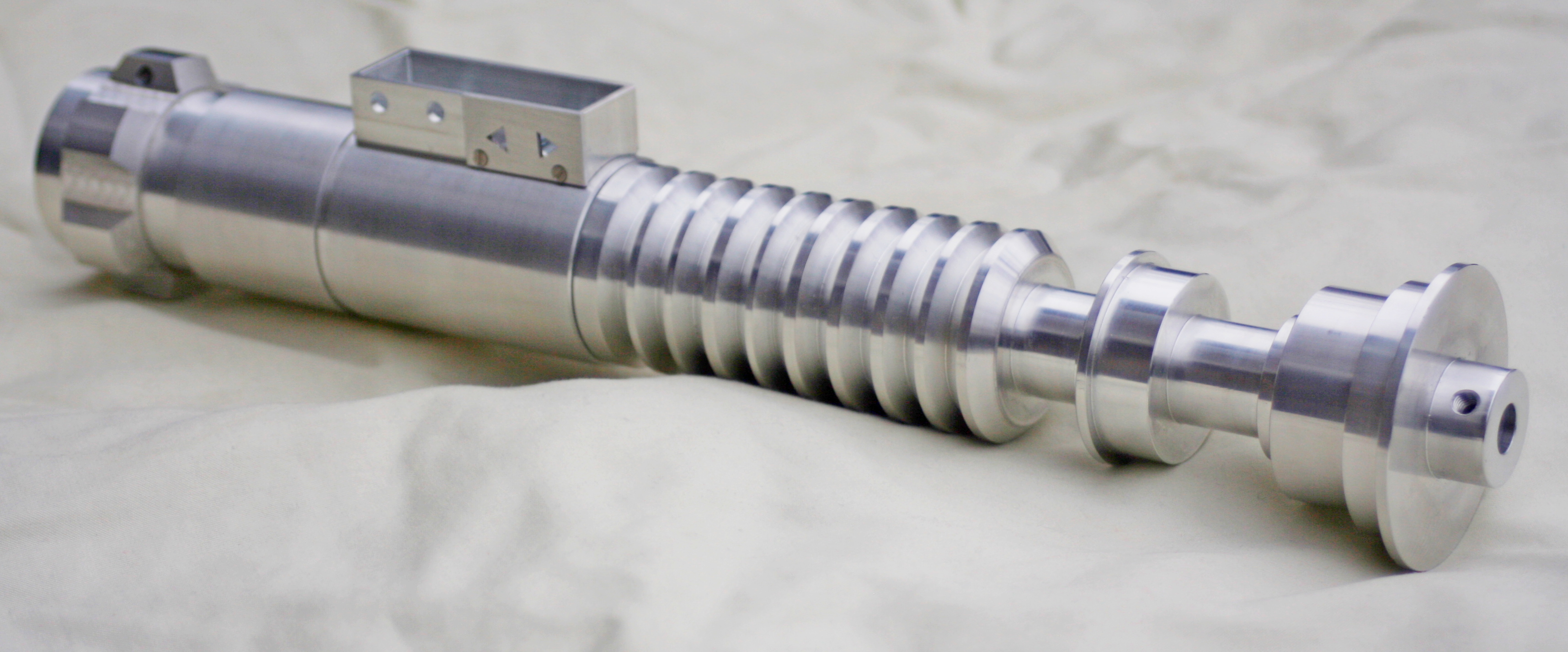 If you're interested, you can see some comparisons showing how my new 3d model stacks up against the original prop.
If you're interested in getting in on this run, here is the place to sign up. But, please read carefully before adding your name to the list.
The saber will break down into multiple parts and will be electronics ready. It will have two emitter caps. One for FX and one for display. It will have two pommel caps, one vented and one for display.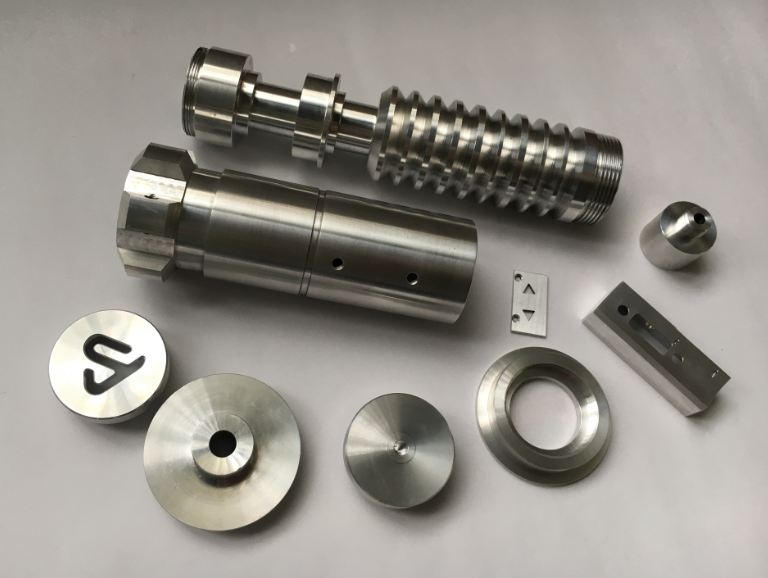 It will come with an aluminum heatsink and will accept the standard thin wall blade from TCSS.
The saber will be machined from 6061 aluminum.
It will include Red and Green Arrows.
It will come with LEDs, and Tac Switches for the control box
It will include a Tri-ring
It will include the black side buttons, machined from delrin, and a 3d printed abs plastic sleeve that goes inside the control box and mimics the abs rails on the original.
To build the control box, you will glue the brass L-stock onto this ABS part.
Here is a 3d model of this part
The only other part that you will need to pick up is a circuit card from Slothfurnace.
I've spoken with him and he will have these cards available when the run is complete.
I the cost for the saber will be $235.00 plus shipping.
I will not accept payment until I have all the parts in hand. However,
I expect that if you sign up here, you accept that you have made a solid commitment to follow through on your purchase. If you are unsure about your interest, please do not sign up.
I will leave this signup thread open for two weeks and after that, I will close the list and proceed with the run.
In order to sign up. You must post your commitment and let me know how many saber kits you want in the space below. At the end of two week, I will add up all the names and close the list.
IF YOU HAVE PREVIOUSLY EMAILED ME, PMD ME, OR POSTED IN THE OLD THREAD ABOUT THIS SABER YOU ARE NOT SIGNED UP. YOU MUST REPLY TO THIS THREAD BELOW TO SIGN UP.
Since this is a sign up thread
, please only post below to get your name on the list.
If you have questions or comments about the design of manufacturing, please PM me or post in the design thread here.
Anakin Starkiller's New Luke ROTJ Hero saber design thread
EDIT ON 11/13/2019
EACH KIT WILL NOW ALSO COME WITH A YUMA STYLE CONTROL BOX AND LEVER, AT NO EXTRA CHARGE.
So, if you wanted to do a Yuma build with your kit instead of the hero, you don't need to do anything, just enjoy! If you were interested in doing both, buy two kits
Sign Up List:
Gregatron
Shaun Patterson
Loneken
BlandoCalrssian
PrinceZip
Damok
dr_slurpee
master jinn
Hatefrost
ms80444
Aison
DOGFOX2109
derekwest1989
scohrdarkshadow
xbadcardx
Sapien1865
mindaramblin
bill313
D48thRonin
maverickhunter
Reel Fakes
corliss1
corliss1
russellsch
KorribanKnight
Goodie2325
Goodie2325
Mech10
awhite89
DarthSkykiller
starwrslover
Spyhunter2k
steven giunta
CrankyScorpion
Scruffylooking
CWOODREPLICAS
Rachen
SenorChang
Obiflex
jonis
Darthlarry
maxspr1
liqfff
SlyFox
Execute66
propfactory
el toro
el toro
Sieg
DarkJedi360
DarkJedi360
timw1031
rockbottom
teecrooz
Halliwax
morgan63
Inigou
acyang
Danters
dse2187
Ron
TheUnchosenOne
gopers
Antarh
chazzychaz
ALLEY
Jediscum
FON
ataru72ita
ventuoguy
Kylash
Patlegrand
jorged123
starwarsmarvel
starwarsmarvel
PhantomPickle
PhantomPickle
SaiyanCookie
Eight93
Jedi Reali
MDC92
rm5122
Kroenen77
BeggarsCanyon
andurilmat
bbmonster
kurtyboy
Scott2815
1977 sabers
Planettera
Shaun patterson from FB
Shaun patterson from FB
treansorturi
treansorturi
manooga
Swc20956
Vain
xwingercrash
Gene Mamangun from FB
HunterTheHutt
cdyoung
zjunlimited
DarthPlatypus
CHS3CELL
thd9791
jedi35
Cluster Edge
Greenkenzie
knullzero
GreyJediMaster
Tuckanator
suntzu707
Standbye List
skoota73
kryptonian69
Bl4ze87
Emperor Fett
Last edited: