I've always wanted to do this costume for like EVER. I did a lot of preliminary research for like a year before deciding to give the green light on the costume.
So my first buy was the costume from Singapore that litters eBay. I was hoping the tunic and obi were usable. The rest I know isn't(tabards are black and not wide enough). But the Obi width is to small and the tunic came to short. It's a shame because they used a very nice crinkle cotton. Due to sizing the tunic is now demoted to undertunic. I want to rid of the rest, if anyone is interested. But it worked out because the cloth tabards I bought are a darker brown.
I went through so many sellers on Etsy before deciding on TheStarWarsCloset. Their pricing is really fair compared to others. I first ordered the tabards to go with the Singapore obi and tunic but they are a deeper brown. Which makes the Singapore tunic perfect for the under tunic. Now I have the outer tunic and obi ordered from TheStarWarsCloset. The leather tabards are on order with Custom Props.
I ordered a belt off AsphodelsAttic on Etsy. It was a pre made belt and unfortunately didn't have the incised lines. I had to do it myself. I'm not experienced so they didn't come out perfect. The capsules are from Jedi-Robe America. About the only useful piece from their junk. And I have the leather pouch on order with CastawayTradingCo on Etsy along with one of the resin boxes in n order from Fralans3DCreations. Oh and a covertec clip on the way as well.
Now due to time and money restraints I'm compromising on a few components. I'm wanting to debute the costume at Oddmall: Emporium of the weird in Akron come May. The glove was from Amazon and is no way accurate but it was the only $25, real leather and a good temporary stand in. Eventually I want to order the glove from Custom Props.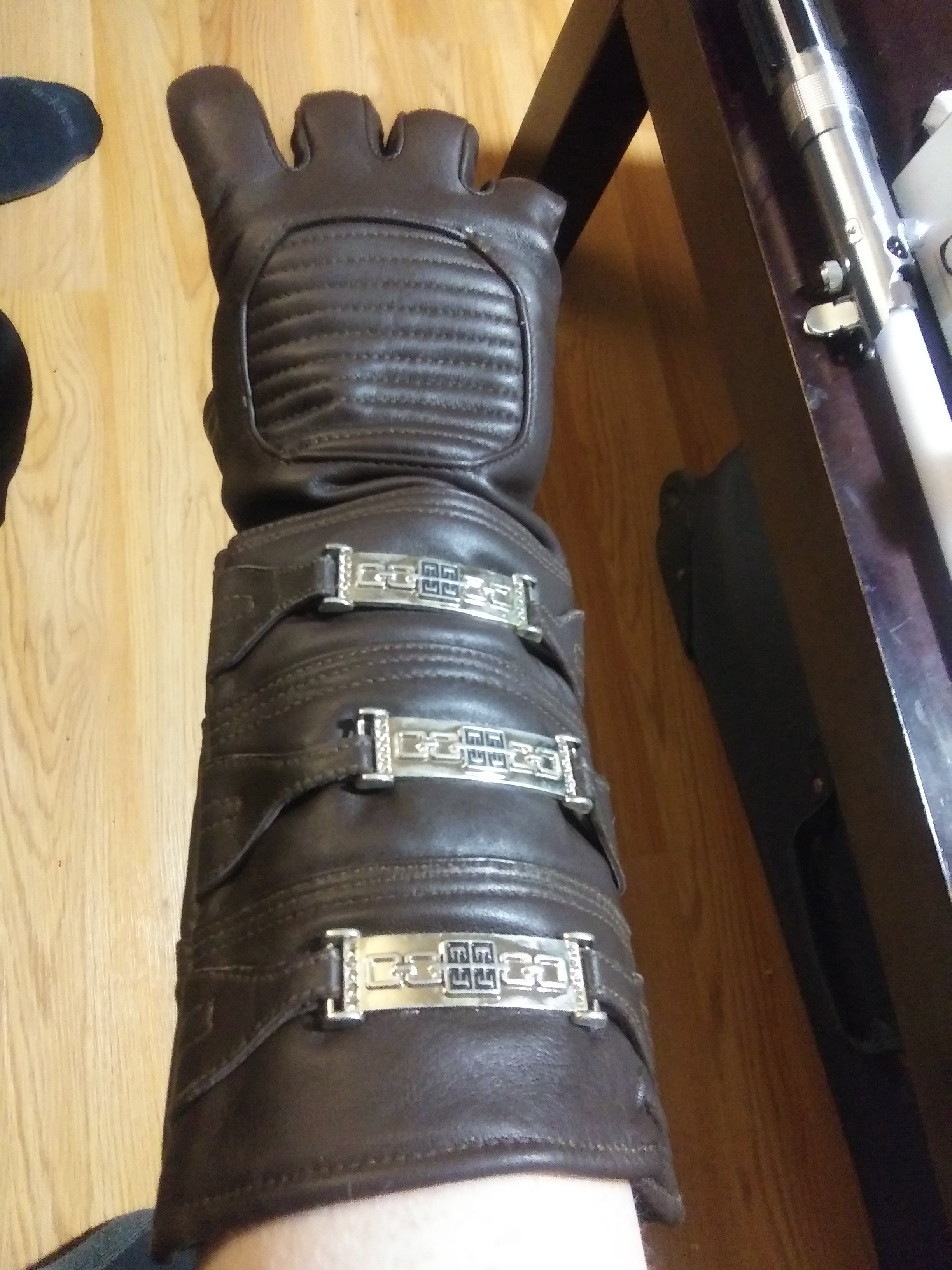 Next are the boots. Real leather Anakin boots are ungodly expensive for boots. I'm stuck with the overseas pleather boots for now. And the robe, please don't hate me when I say this, I'm going with the Rubies super deluxe robe. It actually looks very good for it's price. It's full cut and has a wool felt look to it even though it's poly. Eventually I want a real wool robe.
What I need to purchase still are brown Dickies work pants, the boots and robe. I have on order Outer tunic, obi, leather tabards, leather belt pouch and one of the resin belt boxes. I have the cloth tabards, belt, temp glove, under tunic and food capsules.
Everything on(minus the under tunic)