Sr Member
RPF PREMIUM MEMBER
Hello everyone, 2 years ago I completed my resin/acrylic version of the Mk. I arc reactor. I was staring at it the other day and it occurred to me I could use the same templates from the acrylic/resin run and translate them into aluminum and brass. It always bugged me that I did not figure out a wireless solution to the lighting,, so i have spent the last few weeks re-designing a reactor that will accommodate a self contained system.
here is my
original reactor thread
There have been minor tweaks here and there for the sake of accuracy and ease of design/construction. The reactor will be constructed from waterjet cut aluminum and brass for the gold rings inside the reactor. I will be using the same shop what cuts the claws and brackets for my deluxe sonics. The rear of the reactor will be hollow, but I will provide several discs for the end user to put whatever greeblies they want into it. I am finalizing my own electronics solution where the light will be activated by turning one of the rear rings on the reactor so there is no visible switch and batteries will be accessed my removing the 3 screws on the black center ring This also allows for whatever electronics the end user wants. I have designed the reactor to go together rather easily with the fins aligned by a series of notched rings. and the center elements aligned via 3 screws.
Arc Reactor Instructions and Parts lists
The kit will include
clear resin ring
large white resin ring
small white resin ring
rear cage
transformers (including wires to wrap around said transformers)
brass ring assembly
central ring
all necessary screws and nuts
assembly instructions
The screwdriver will look similar to the photos below: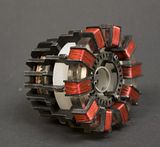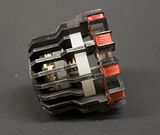 Recommended tools:
JB Weld
sand paper
precision metal files
hex screwdriver
black spraypaint
The only thing i have not finalized is the center aluminum ring. I am looking into getting the aluminum ring machined.
Kit (no electronics) : $200 + shipping
electronics kit $10
completed reactor $650 (very tentative)
Shipping will be $12 for US $25 for outside the US
Kevin Gossett (kit) [ paid]
BlueCoyote (kit) [ paid]
Metalman (kit) [ paid]
Metalman (completed) [paid]
Endiathetos (kit) [paid]
medic2410p (kit) (polished) [paid]
Spheric Thor (kit) [paid]
Westies14 (polished) (kit) [ paid]
ataru72ita (kit) (polished) [paid]
Ariannus (kit) [paid]
RobI (kit/possibly completed) [paid]
Bigturc (kit) (polished) [paid]
Luke0312 (kit + extra parts) [ paid]
Oz (kit) [paid]
TomVDJ (polished) [ paid]
BlindVoyeur [paid]
StcMedia (polished) [ paid]
Jediguy [paid]
Jediguy [paid]
2nd Run
andrew25rs (kits)
Crsdawg (kit)
FSURobbie (kit)
Zalaian
mbmcfarland
Risu
Estimated schedule thus far is to start taking payments in February. Hopefully things will go smoother this time around with fewer delays.
As for the surprise I mentioned some time back, I am working with another member to get LASER CUT GREEN TINTED OUTER RINGS!!!!!!! They will be laser cut 3/8 acrylic, and will need polishing, But no where near as much work as the original resin outer rings. I am insanely excited about this.
If you want one of these, I will give you the name of the member handling this part but will only give this information to those who have paid their deposits on the 2nd Run. For those on the 1st run and want one of the new rings, please PM me AFTER Febuary 1st.
*Note: If at any time you wish to upgrade to a completed reactor, please PM me.
If ordering a completed reactor:
Assembling the reactors is a rather laborious process and will take two to three weeks after the parts arrive. I would like to first ship out all the kits first then work on the completed reactors.
Please feel free to PM me with any questions.
Last edited: