Ok so This will be the start of my How to on aligning lasers. For me, this worked Really well and Really easy on a Wolf bio by Casey, Assuming that other bios have the room for Lasers and a thickish cast to cut into (you barely need to cut into the mask) then you should be set to go.
Materials needed:
1.) Laser diodes x3 - i used these (Very cheap and very easy to wire in)
http://aixiz.com/store/product_info.php?products_id=45
Here is how i wired them in. Very simple. You can get a mini slider switch from radio shack for like $1
http://www.radioshack.com/product/index.js...ductId=2062492#
(comes with 2 in a pack) it says $2.69 but at my local store they were like 99cents or 1.99.
Diagram: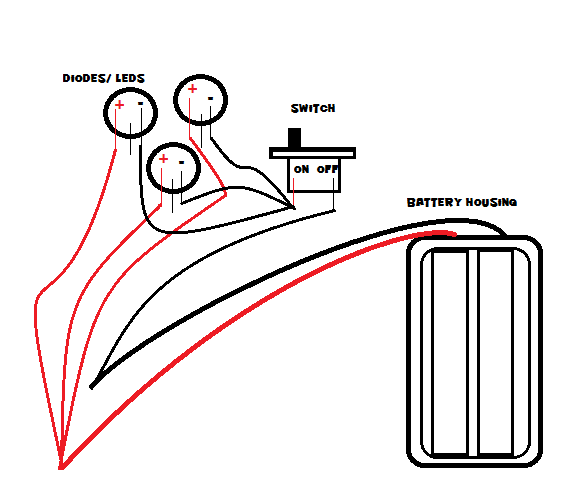 There is no need for Any resistors at all. I run all three off of only 2 AAA batteries. I've had them on for a long long time and nothing went wrong or heated up or anything.
(ill post a picture on how the wiring looks in my bio right now tomorrow. and when i clean it up as well)
2.) A Dremel or something to carve the mask enough to fit the laser diode in a the mask a little bit
3.) Hard Clay that never dries and stays firm when you move and mold it. (i used a $2 sculpty clay block i got at Ben Franklyns )
4.) Crazy glue (to set them, or use quick setting epoxy)
5.) OH i forgot, a 2x AAA battery holder, again $1.99 at radioshack
(this is what i have)
http://www.radioshack.com/product/index.js...oductId=2102737
(dont worry if any of this doesnt make sence yet, i will be making a video explaining how its done soon, that is if anyone is interested in it)
Anyway here is the results. The dots are exactly 3/4" spaced apart from eachother in every way.
This is at the 10 ft mark. I chose to keep it 3/4" apart because when you shine the laser even further. the tri dots barely spread out more. which give that true small triangle dot feel you see in the P1 movie.
Also i got to mention that these lasers focus the beam into a small - (dash) type of look. (pretty much line lasers) but they look like dots at the 10ft mark and after, but it is so cool when you see the laser aligned when you make them look like this

here is the diodes in the bio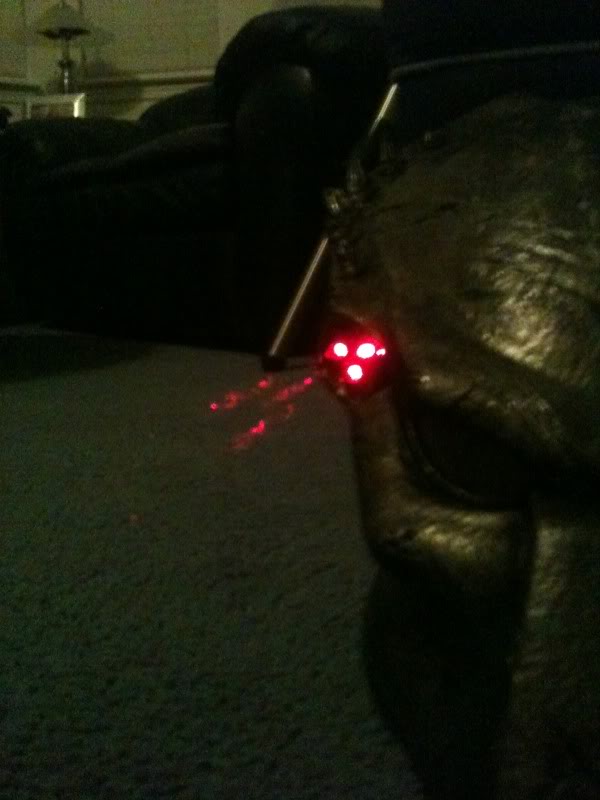 Again let me know if you guys are interested Ill post the video a.s.a.p. i just want to make sure you guys are interested. I would make the video tonight but im too tired.
(1:04am)
To sum up the process. you take the dremel and carve into the mask just enough so that the diode fits then you take the clay and put it on the diode. then you adjust the diode around until you find the right spot, the clay should hold the diode in place. From there you glue around the diode where its sitting in the hole where you carved. Hard to explain ill try to show everyone in the video
Thanks for reading!