I was lucky enough to snap up one of the Hasbro NERF M041-A Pulse Rifles when it came up for pre-order, and had mine delivered a few weeks ago.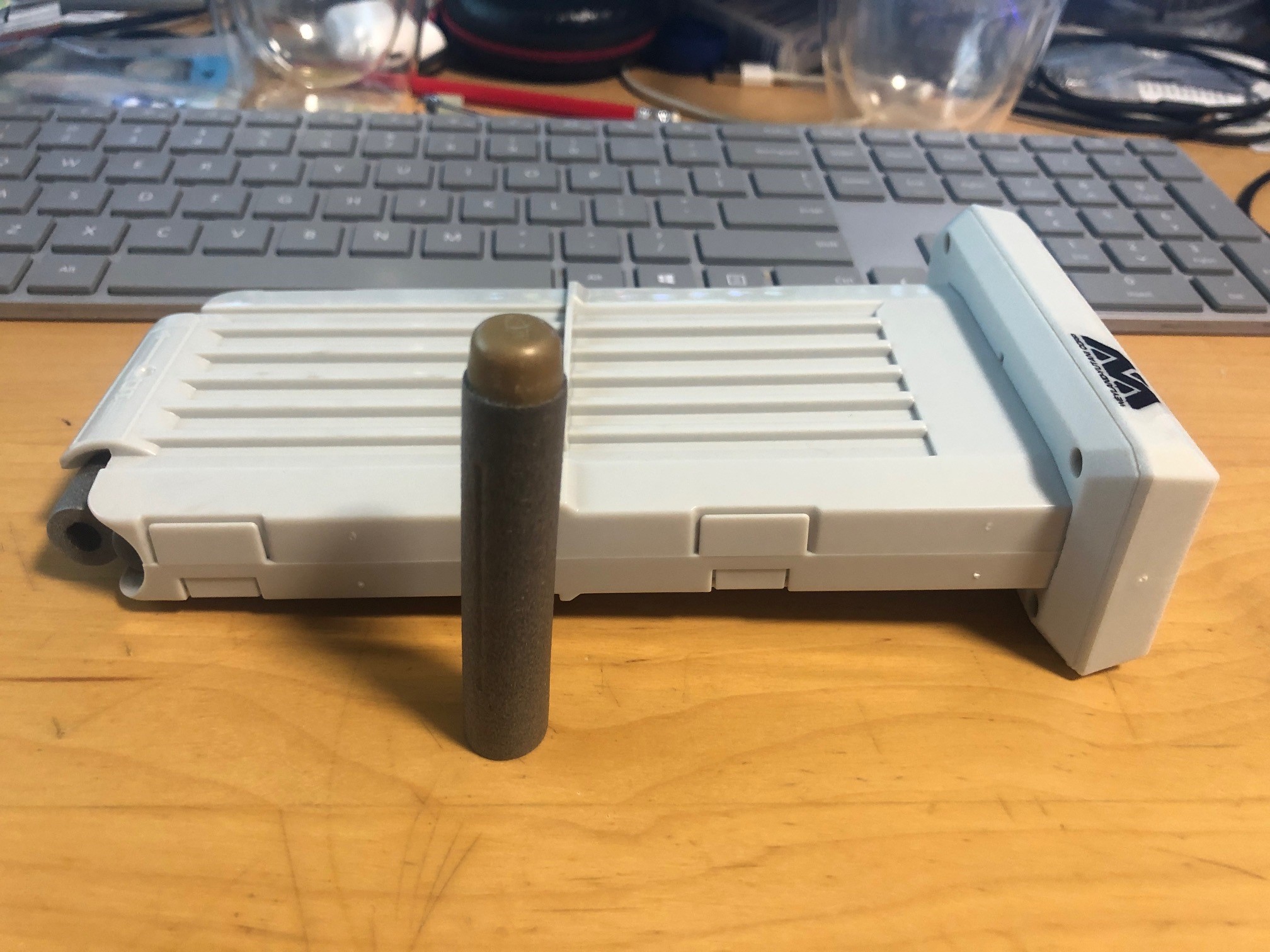 There's some conversation and reviews of the product
HERE
. I won't go too much into the pros and cons, aside from saying that it looks amazing, the overall functionality is great and its really only let down by having incorrect sounds - which are quiet and can't really be heard over the flywheel anyway's so not a big deal.
As soon as I got mine, I began the process of painting it.
Sanding off the logos wasn't too bad, less than an hour's work. There are a couple of NERF logos, an Aliens movie logo on the barrel and a few blocks of legalese text. All the other black markings were simply painted on. Everything sanded off pretty easily with 400 grit sandpaper. I removed the legalise text but didn't bother filling in the indented section where it sat, because I hate trying to fill and smooth a properly flat surface. I think it looks fine and just adds some surface greebling to the gun. I then ran over the entire thing with some 600 grit to rough up the surface, for paint adhesion. All up the paint adhered really well, except to the shoulder stock and the ammo release door. The white glossy plastic here didn't want to grab the paint and I had to sand it back and reprime it twice to get a final good coat.
I decided not to disassemble this for painting because I didn't want to mess with the electronics inside, and I know that I have a tendency to get distracted and leave projects unfinished if they take too long. There wasn't any real need to disassemble. I applied some filler to the screw holes, seams and anywhere that needed it, taped off the ammo counter and then hit with a lacquer-based automotive filler primer. Aside from the above-mentioned parts, the primer bit and held really well. The tricky parts took an extra hit with the sandpaper and I primed them with multiple very light powder coats to get the paint to stick.
For a paint scheme I decided to go with the brown look. I personally prefer the green look that I remember seeing on screen (I love the idea of screen accurate vs set accurate to distinguish between how it was created and how we saw it as an audience.
Screen Accurate?
) However I've ordered one of the Hollywood Collectibles Motion Trackers and that's done in brown so I wanted this to match. I didn't bother chasing down Brown Bess, instead, I read up and found that Tamiya's TS-90 JGSDF Brown lacquer is a pretty good "close enough" match, plus it's cheap and easy to get for me. For the black, I used Tamiya TS-6 Matt Black. Both are lacquer-based paints so provide excellent toughness and durability and they come in 100ml spray cans.
I sprayed the black first, gave it a few days to fully cure and dry, then masked it off and hit it with the brown. It already looked awesome.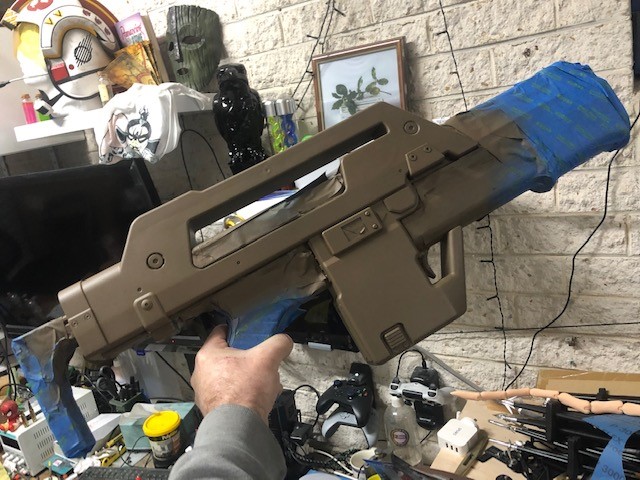 I also sanded, primed and painted the magazine at the same time. I gave everything a few days to cure then hit the whole thing with an Aclad lacquer gloss clear coat. I wanted the gloss for weathering purposes. I went through several rounds of weathering using various shades of brown, black, blue and purple oil paints... and wasn't thrilled with the result. The weathering wasn't quite strong enough, but it would do for now.
I then hit it with Tamiya's Matt Lacquer clear coat.
Next up was some silver rub'n'buff for edge-wear and scraping. It looked okay as I was doing it, but I overdid it a little and looking at it the next day, it was too much. So I decanted some of the TS-90 into my aribush, and touched up the more egregious spots. At that point I decided since I had the brush out, I might as well decant a little of the TS-6 black, mix up a slightly darker brown and added some post-shading in the cracks and seams. That worked a lot better and helped bring out the oil weathering. In hindsight, I should have pre-shaded the whole thing before applying the brown, but I thought the oil would be enough.
The final touch was to hit the exposed section of the barrel with Aclad Ultra Gloss black, then Alclad Air-Frame Aluminium. It's a little shiny but I think it will dull a bit over time.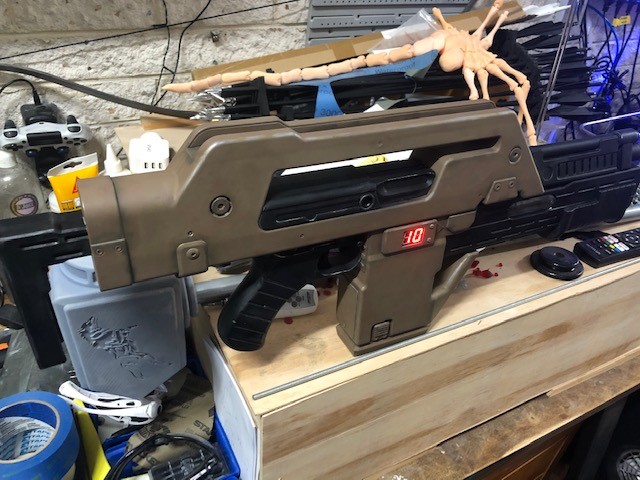 All up I'm pretty happy with this and am calling it done... for now. I'm gradually paying off the HC Motion Tracker so when that arrives in about 6 months, I'll see how the two look together. Hopefully, the colours are a close enough match, that a little weathering on the motion tracker will tie them together nicely.
I also 3D printed a Facehugger prop about a year ago, but I did it on my resin printer and it's a little too brittle - leg joints keep snapping. I'm going to reprint the legs on my FDM printer using ABS, and then maybe coat the whole thing in flesh-coloured latex to hide the joints and the paint and weather it. But it's an awesome articulated print.
My other Aliens project is a "pseudo-sentry-gun". I have no way to get an accurate Sentry Gun from the movie and I'm not accomplished enough to scratch build one, but I do have a NERF Vulcan, which is a "chain gun" that comes with an ammunition box, a Chain of Nerf Darts and an integrated tripod. I think it will make an awesome "close-enough" Sentry Gun, so I currently have it disassembled for painting.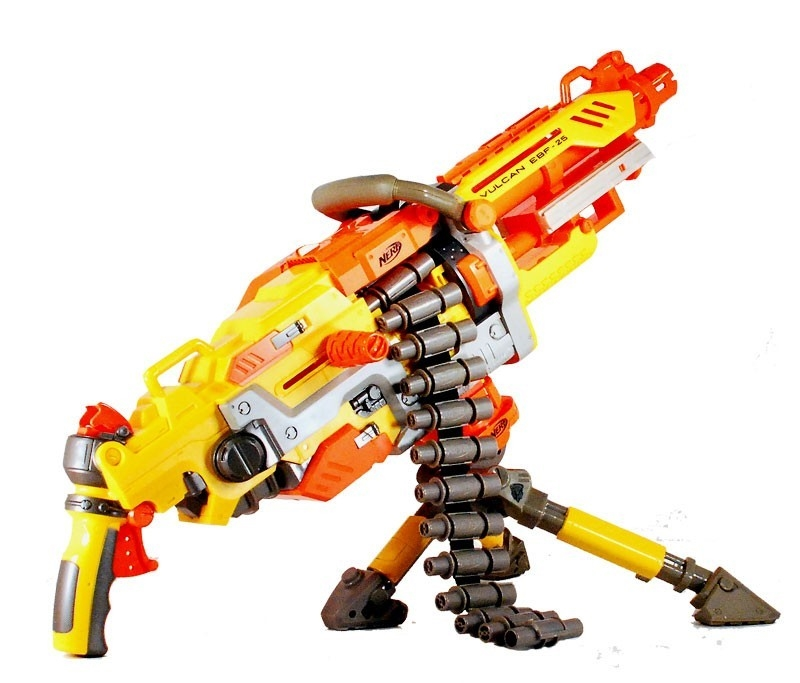 The Nerf Dart chains are cool and all but not super realistic, and I wanted something recognisable as ammo, instead of the in-canon "careless rounds", so I 3D printed and painted up a short chain of ammo. The rounds are in two parts, the shell painted in Alclad Polished Brass and the bullet head in Alclad Chrome -I tried the Airframe Aluminium paint but it was too dark, I wanted something nice and shiny.
The chain links are also rein printed and airbrushed with Vallejo black primer for the matt composite look. This was a short chain of about 30 rounds as a proof of concept, and I'll probably print off another 30 or so rounds to make it nice and long. I plan to have this hanging out of the Sentry guns ammo box and will drop a few empty shell cases on the ground underneath. Not even remotely accurate to the movie, but should look pretty awesome.
I'm very happy with this Pulse Rifle, it's an amazing piece of kit from Hasbro and NERF and makes a really beautiful piece when painted up. The functional Ammo counter is just fantastic and the magazine fitting 10 darts, and the counter counting down as you fire is really cool. I'd love to get a spare magazine if Nerf ever produces one, and if I can get my hands on one, I'll print up some rounds that can fit in the top of the magazine to make it look like it's full of real ammo.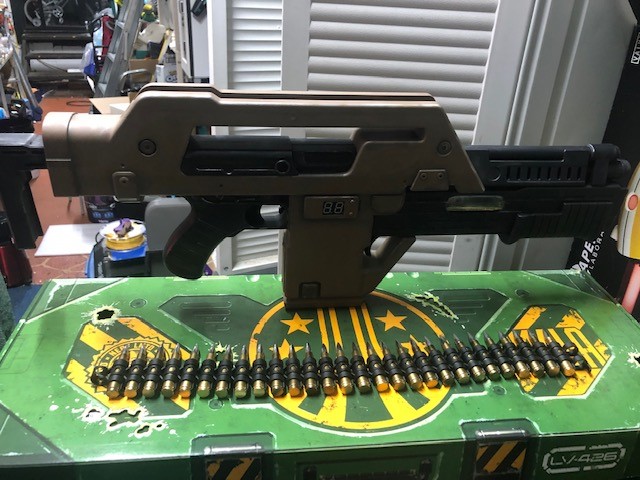 Last edited: