A little while ago I started working on a project with a collector right now who is a huge fan of the
Alien
movies, and wants reproductions of some of the more niche tools and props. We're starting off with what I'm calling the 'claw cutter' for lack of a better name - the tool Ash uses to initially try to cut the alien off its victim before it spurts acidic blood.
I combed through the movie as closely as I could to try and get reference images of it to work from and put some notes together.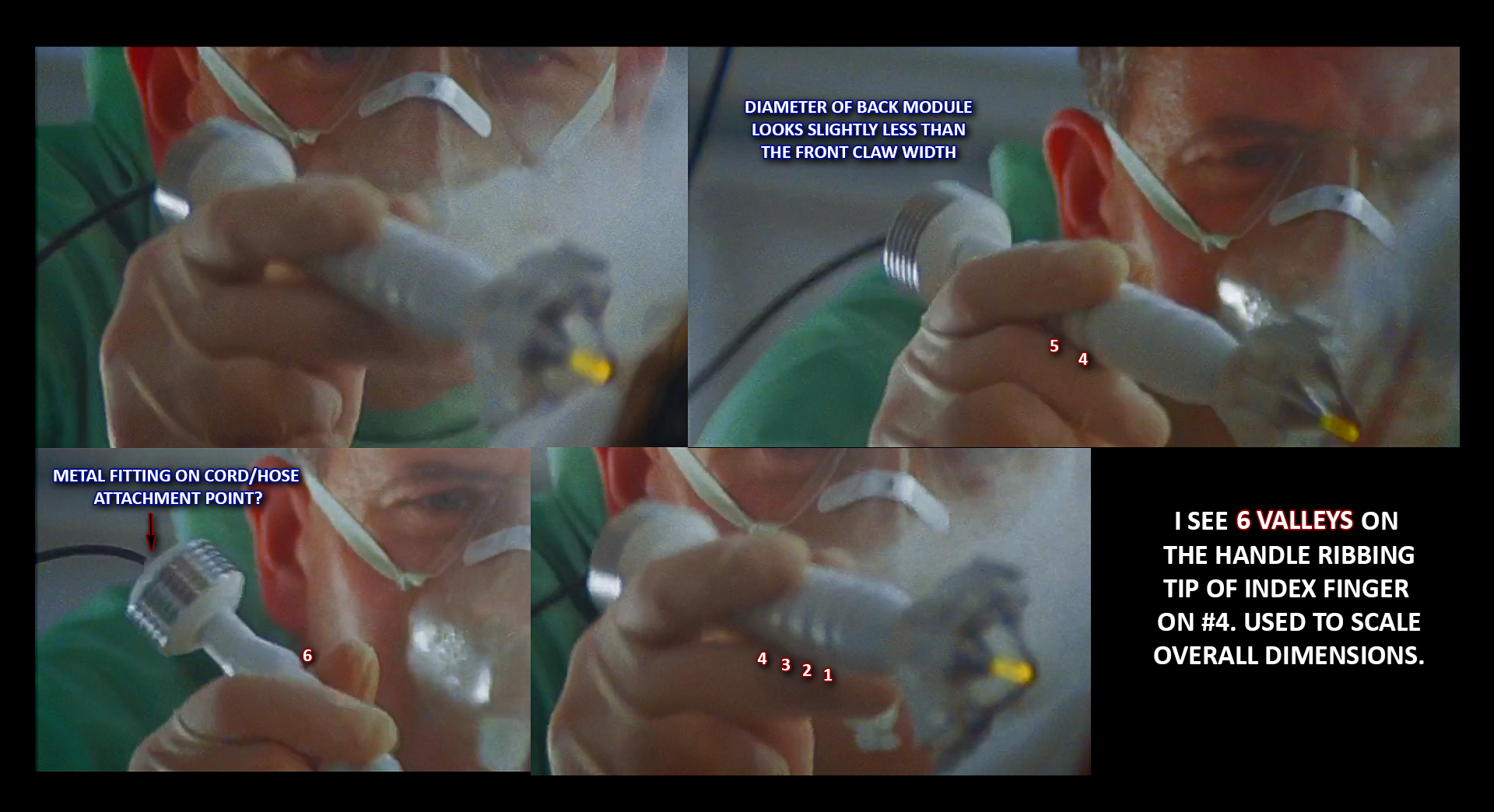 I should point out that there are a few things that even these notes get wrong. Based on this image...
There's more ribbing on the handle than I initially counted, so there's that.
When I was working up the initial drafts of the model, I tried using a rough 3D scan of my own hand in the environment for scale.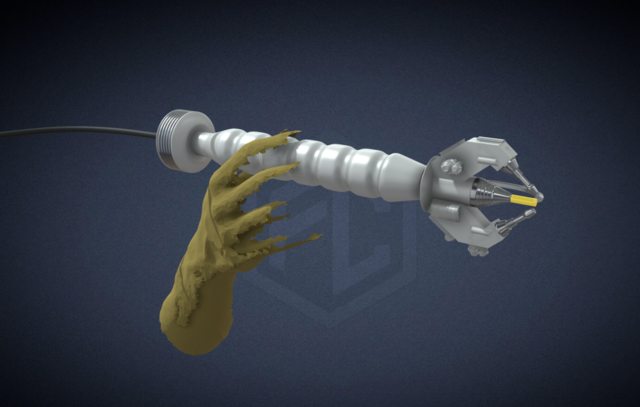 Seemed like a smart idea initially, but I ended up with a scale that was obviously too big when I went ahead and did a very quick draft print of the parts in vase mode:
At that point is was about 13" end-to-end, which was no good. I've been tweaking it through a number of iterations and after a bit of trial and error ended up with something that feels right at about 10.43" end-to-end, instead.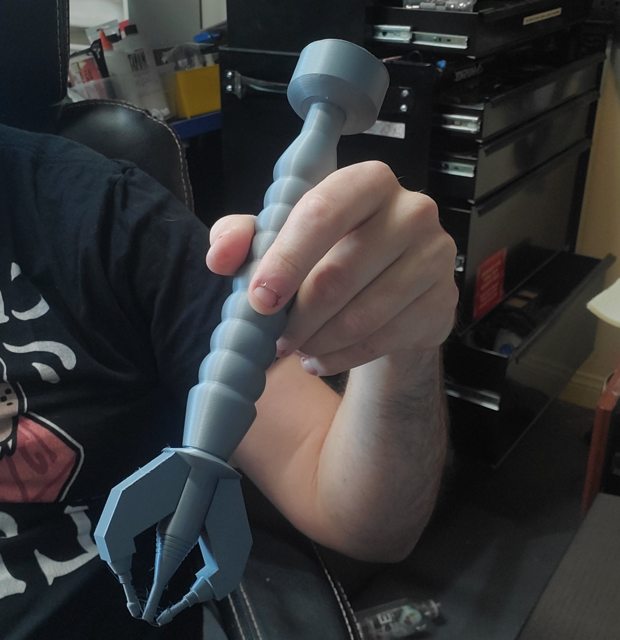 After getting in the right ballpark for scale, I started using my 3D modeling software's camera alignment tools to see if I could directly match an overlay of the model geometry with the pictures I was using. It has taken a bit back-and-forth, and at this point I'm on iteration
5
of the design, but I think I've got something pretty close to correct now.
I can't get an
exact
match of the camera angles because I don't think I can model the physical camera settings used to film the movie exactly.
There are a few details I made up as I went along. As far as I know, you don't ever really get a good look at the opposite side of the tool. For instance, there's a Y-shaped fork that extends from the tip of the yellow tube around the back of the tool in an arc and seems to terminate somewhere by the claw-head, so I put a little boxy greeble where it might intersect with the rest of the tool. I also took a guess and assumed that the details from one side of the tool (the gearbox and the gas-can-looking-thing) would be present on the reverse side.
It also has a UK plug on the model at the moment - the collector I'm working with has some other actual screen-used stuff, and indicated that's what most of the other props seem to be terminated with.
I've uploaded it to Sketchfab so folks can spin it around and look it over to assess.
https://sketchfab.com/3d-models/alien-medical-bay-claw-cutter-draft-3c70d7613ad24e2497047f0bc2116991
At this point, I'm posting this both to share the work and because there's a chance, however slight, that someone here has better or different reference images than what I have been working with that might indicate some changes to the design. I am actually dreading that a little bit, as I can imagine finding out a bunch of things that need further changes...
... but in the name of screen accuracy, I'll cross my fingers and see what you guys think so far!