Remember this show? How cool was that first season, eh?:cool
I recently decided that I need a new Airwolf model, since the one I have now I made back in 1985 with my kid-skills. It came out okay, but it got pretty busted up through the years in all the moves. Last year I took the pieces and carefully reassembled it. However, I merely restored it.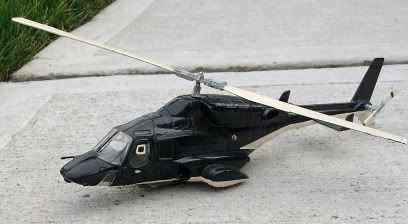 Now I see all kinds of improvements I could make if I did one today, alas, Airwolf models are scarce. And when they DO show up on eBay, they are CRAZY expensive. An Aoshima model is currently going for $82 (and the bidding isn't even over). An Aoshima diecast goes for near $500. The AMT/ERTL model almost never shows up at all, and it commands a high price when it does (like once a year). And the 14" ERTL diecasts just don't look very good at all IMO-
way
too many issues there. I'm not fond of working on diecasts to that severe a degree. Grind grind drill drill...
I
could
just make one from scratch, but I just don't have the time right now.
SO- almost by sheer accident yesterday I find this company in China named Kitech offering an Airwolf kit for just $15!!!! The pictures of the parts make it look pretty workable (extremely similar to the 1984 ERTL kit), so I ordered one.
When I get this kit, I think I'm going to toss the main rotor blade & make a more flexible one from scratch, as well as a metal rotor mast to attach it to, anchoring into the main body. This will require more strength in the interior, so more sheet styrene work in the upper fuselage. Probably metal landing gear replacements as well, as (for now) I plan to do the "sitting in the Lair" look.
Any Stringfellow fans here wanna pop a sunburst & show us
your
Lady?
Last edited: