Master Member
RPF PREMIUM MEMBER
So on our honeymoon, we spent a full week at Disney World in Orlando. To say I spent a lot of time in GE is an understatement but we also spent quite a bit of money as well. I was eyeing the sabers at the Antiquities shop for awhile, even wanting to pick up the Mace Windu when I was there in October.
Please excuse the messy table, literally got back in from Florida yesterday and we're trying to get our lives back together
Anyways. the BLUF: The price and quality for a display piece is all here, and inexpensive compared to alternative, former high end replicas, but if you're looking for some saber guild/fighting level piece, you may need to look elsewhere or modification. Some sabers have accessory pieces hidden underneath the main hilt "tray" that's in each box. I can confirm this is the case at least with the Luke ROTJ and Ben Solo. The other sabers in this thread did not have anything extra. I would like to believe the Maul has a connector so if you bought 2, you could put them together but I have not actually seen that myself. Additionally, all of these have an emitter "dust cover" as I call it, to fill that empty space when you don't have a blade, but likely also serves to prevent the electrical connections from being covered in dust/crap.
I'll add that you can buy stands for the hilts there too. They're mostly metal and feel substantial. My only gripe is that they come with plastic clips that you use to rest the hilts onto them. You really have to play around with each saber hilt to figure it out though, and sometimes the clips would come loose from the weight or the hilt would slide down due to the angle.
/rant
I'll discuss my opinions with each piece:
Ben Solo:
This was is actually quite nice. It is also quite hefty, and feels much like the Disney Parks Kylo Ren. There's not much going on with this piece aside from the silver aesthetic. I'm not a prop expert on this one, and I was reading the bottom cap is suppose to be silver as well, and not red. I don't mind too much, but that part specifically unscrews for the battery compartment, and if you want to, you could strip it (it's also metal). The other neat thing, as with the Disney Park's Kylo, it came with the same style belt clip, and functions quite the same. The difference here though is that the unlike the Disney Park's Kylo, this only really uses a friction fit to lock it in place, where as the other has a release mechanism IIRC. You can find the belt clip underneath the black soft holder piece that the hilt sits on.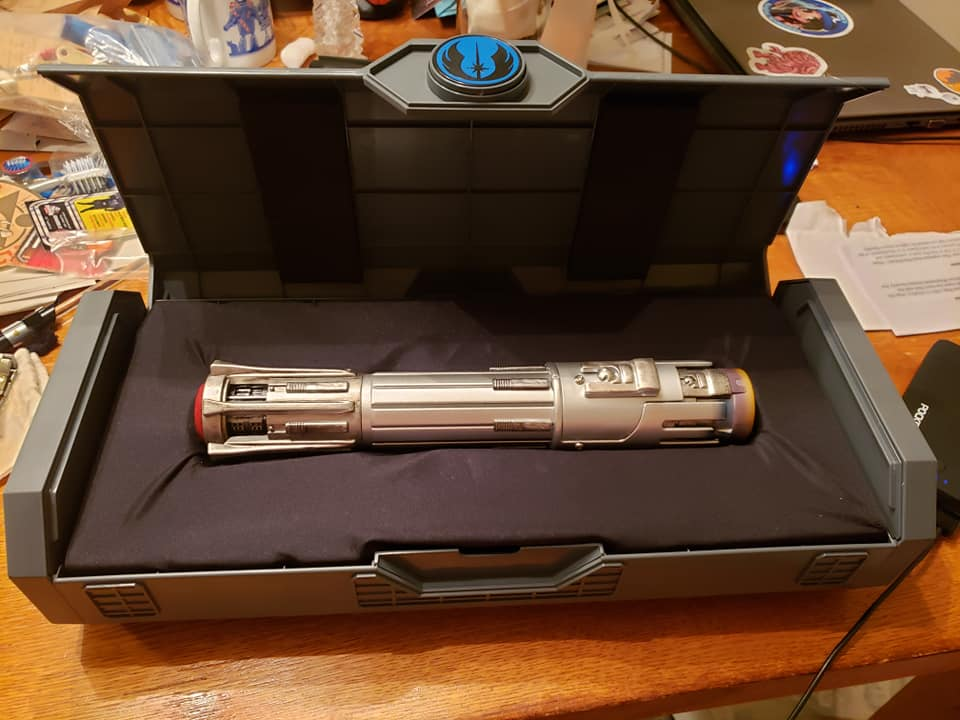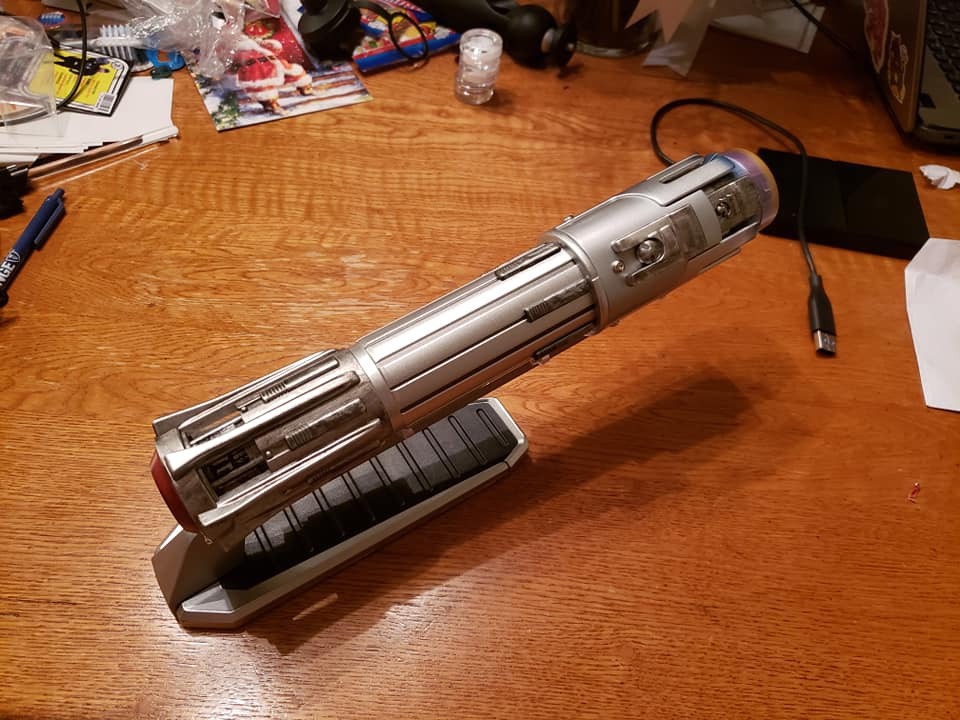 Temple Guard:
Admittedly, I was initially not too "into" this design. I had bought the temple guard mask display piece there, and I figured the saber would make a nice combo for display purposes. After being able to handle it now, though, I have to say I am more fond of it than I expected. It's a very simple design, but the quality is there with this one. It is HEAVY, and I was not expecting that kind of weight to it. I will say the paint job on this is very well done. I was initially concerned that it looked too "plasticy" from my first view but na, it's all metal, and it let's you know that when you pick it up. While I may have ragged on the electronics with these sabers in the begining of this post, I will say that this has the most unique saber ignition/hum sound you will find out of these I've got here. In addition, the blade is Yellow!. There is no hidden accessories in this box, and uses a covertec style belt clip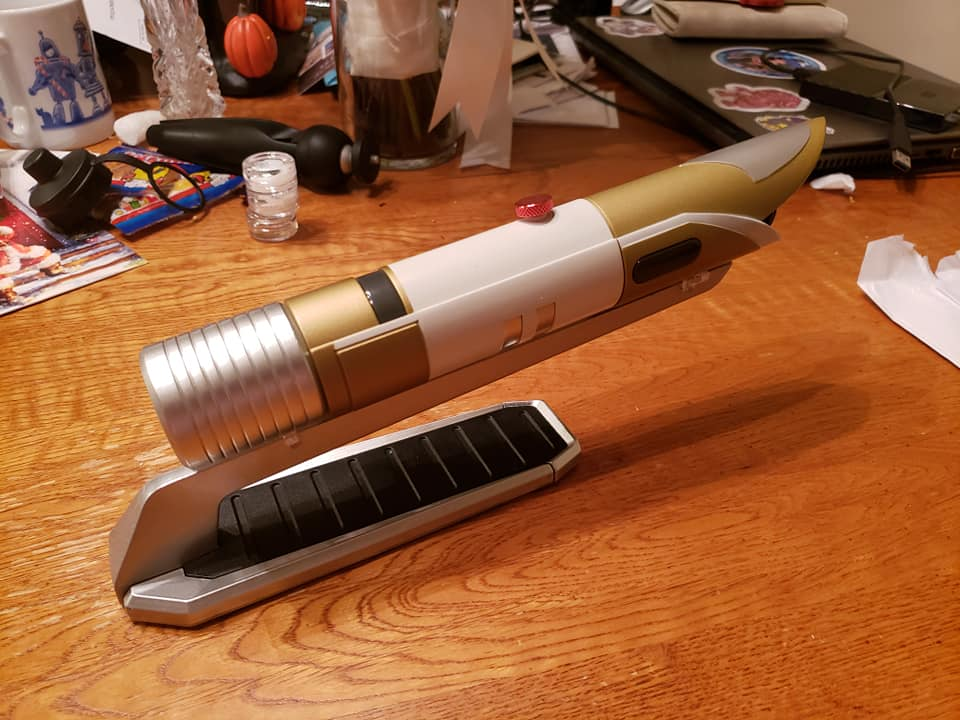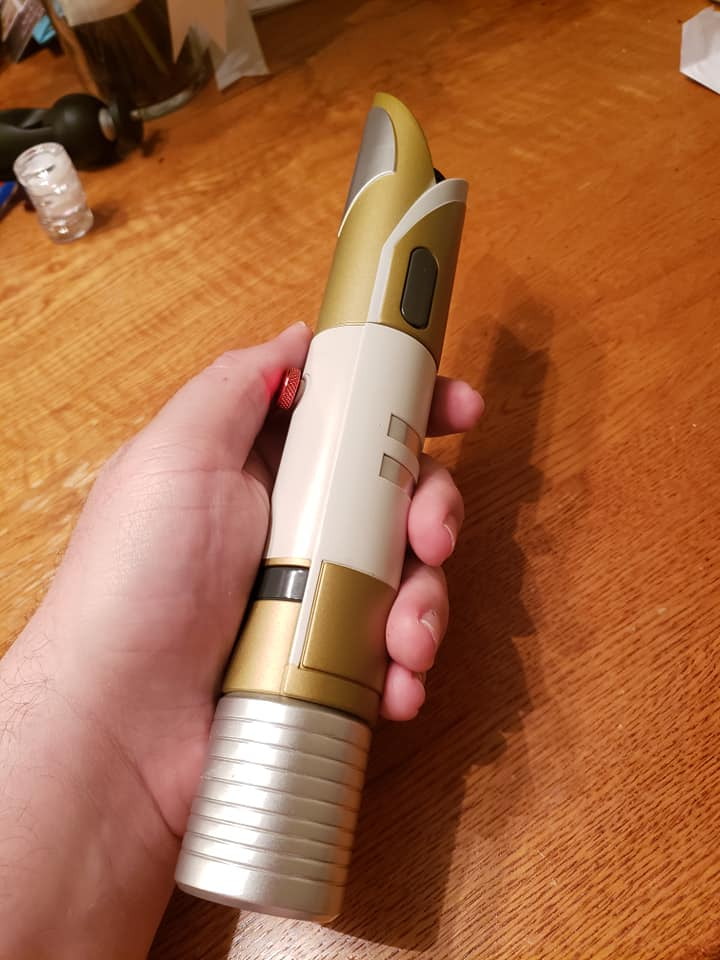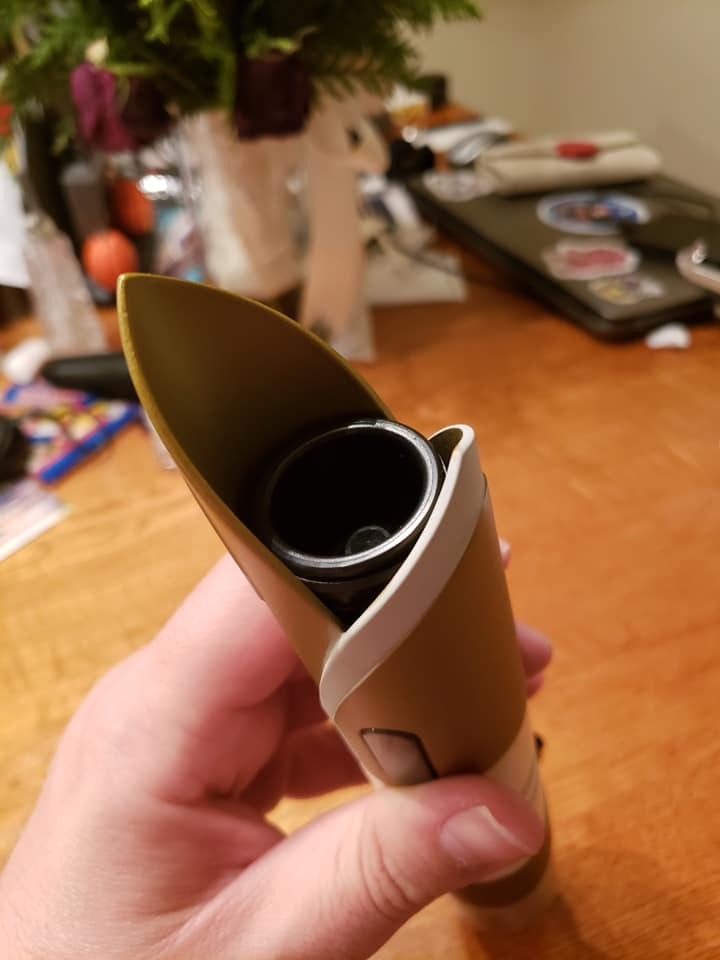 Luke - Reforged:
This saber, a long with Ben Solo's, came out together the next day after the premier of TROS, and I sat there at EPCOT learning this and telling my wife "I'm going to go get these 2." I don't have the "Rey" version that they sell there, so I can't compare it, but while I love the piece overall, there's just 2 things (1 minor) that kind of bother me. The 1st thing is that where the leather meets on either side of the control box, it's not "accurate," where this has flaps of material that kind of free-float, on the real prop (from what I've seen) it's secured down, and there's another line of silver separating it. The 2nd issue is that since it lacks a D-ring like the ESB style Luke, they took one of the black grips, and "turned it" into a belt clip. I don't know if it was like this on the Rey version or how it was done for the film prop, but this kind of annoys me, as I felt that they should have just left that alone EDIT: I looked at reference pics in another thread, and they indeed did make a very similar belt clip in place of one one of the rubber grips. Otherwise, the detail, quality and feel is all there. The sound effects sounds a lot like the MR ESB Vader I used to own from way back when. No accessories in this box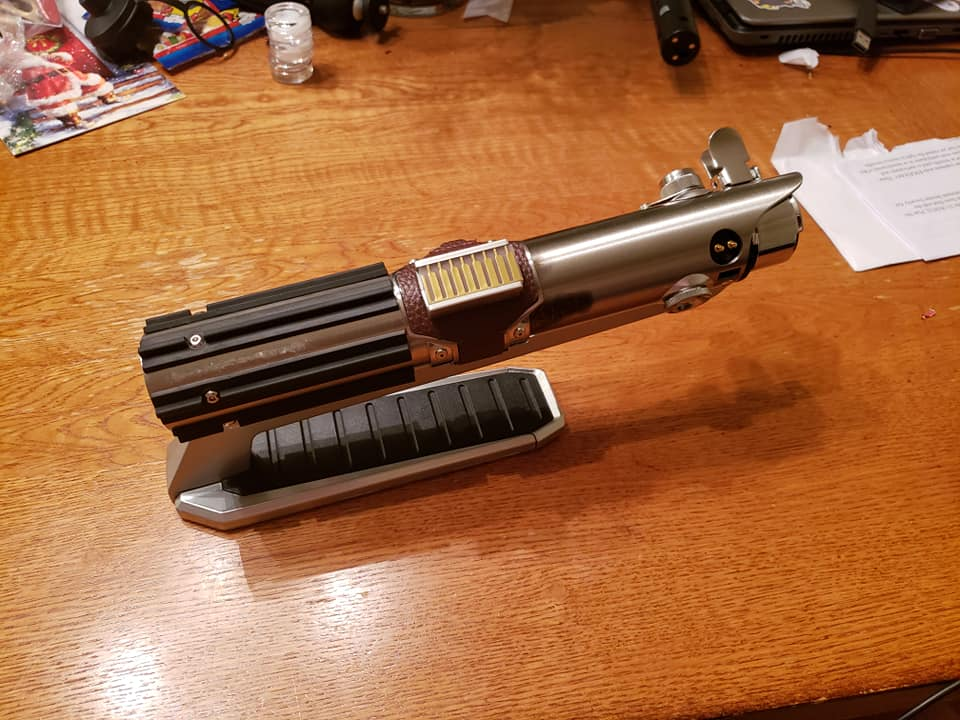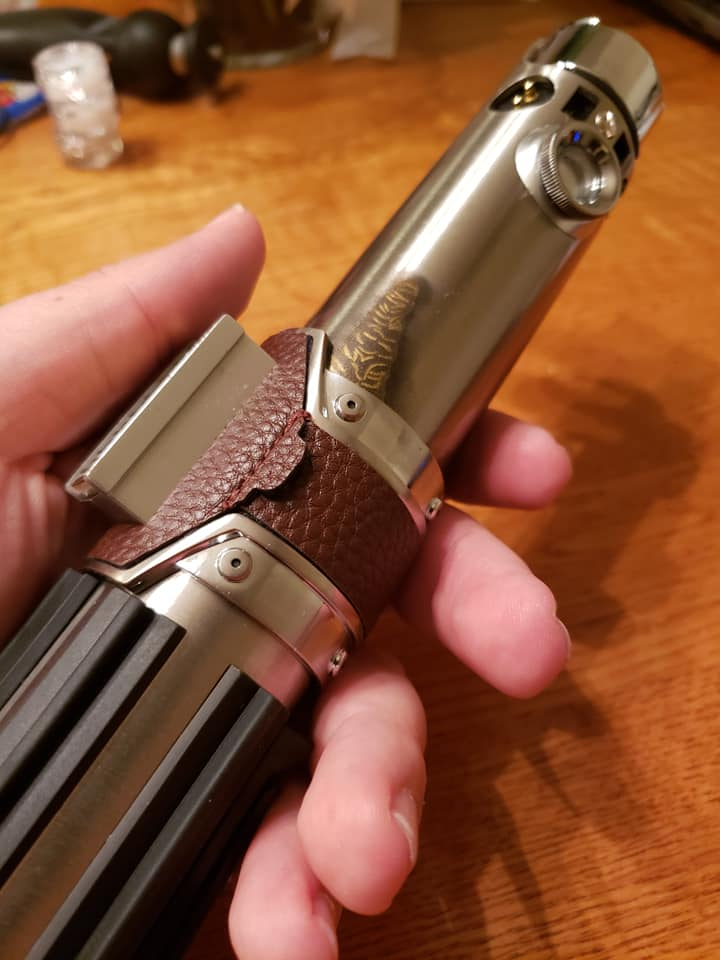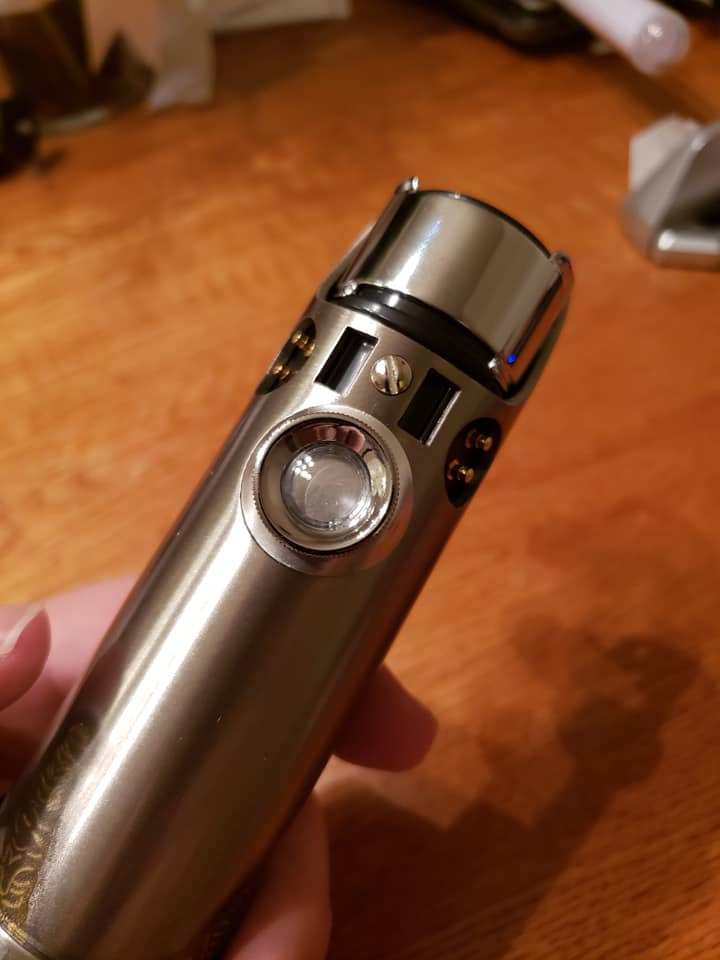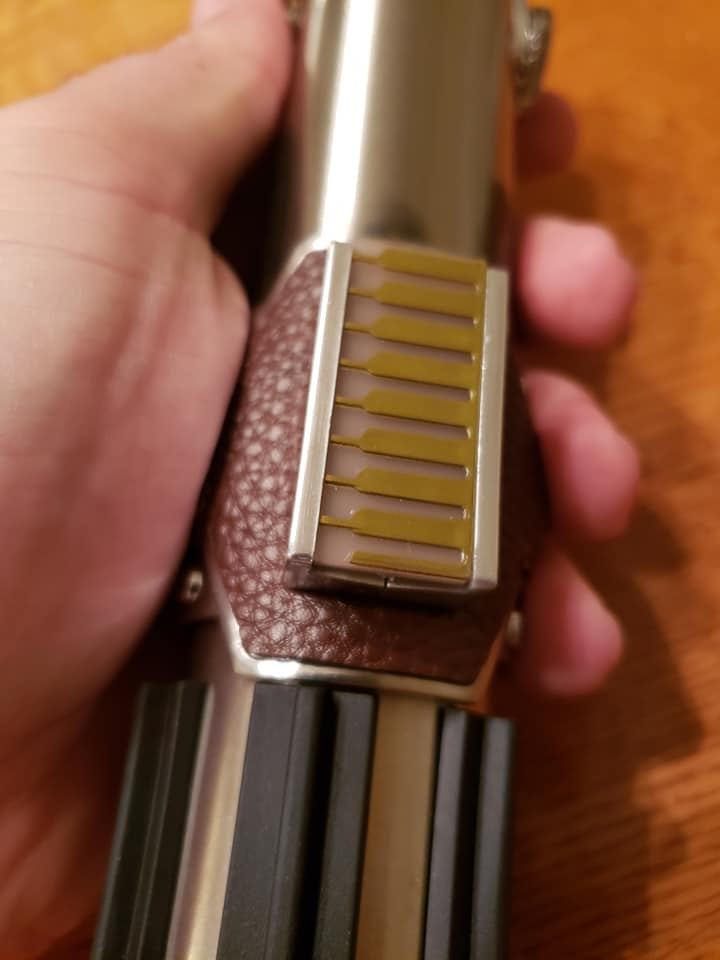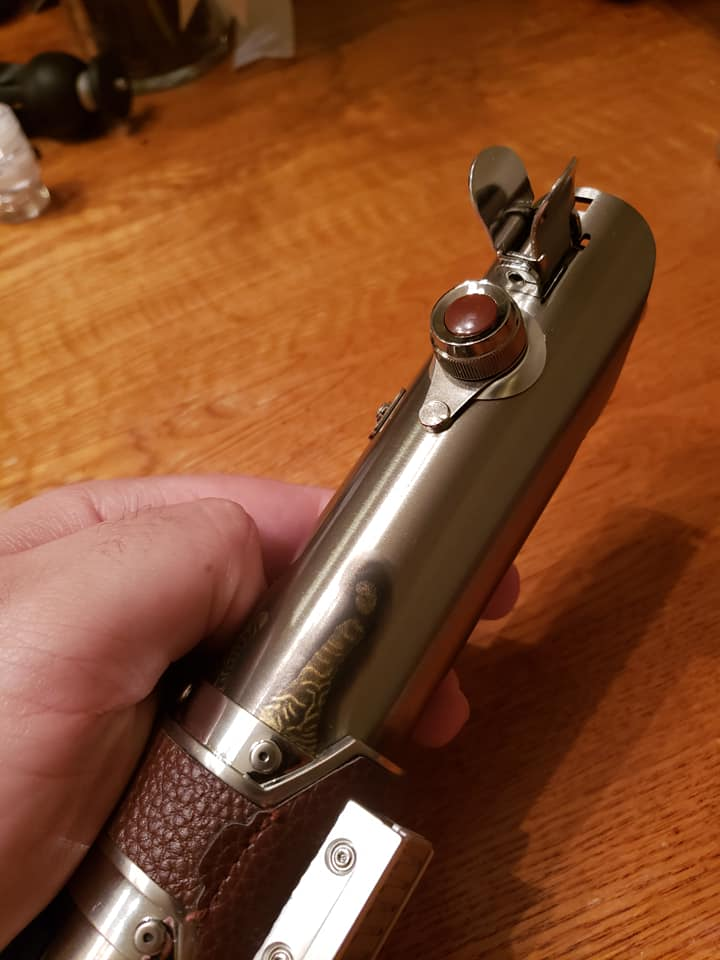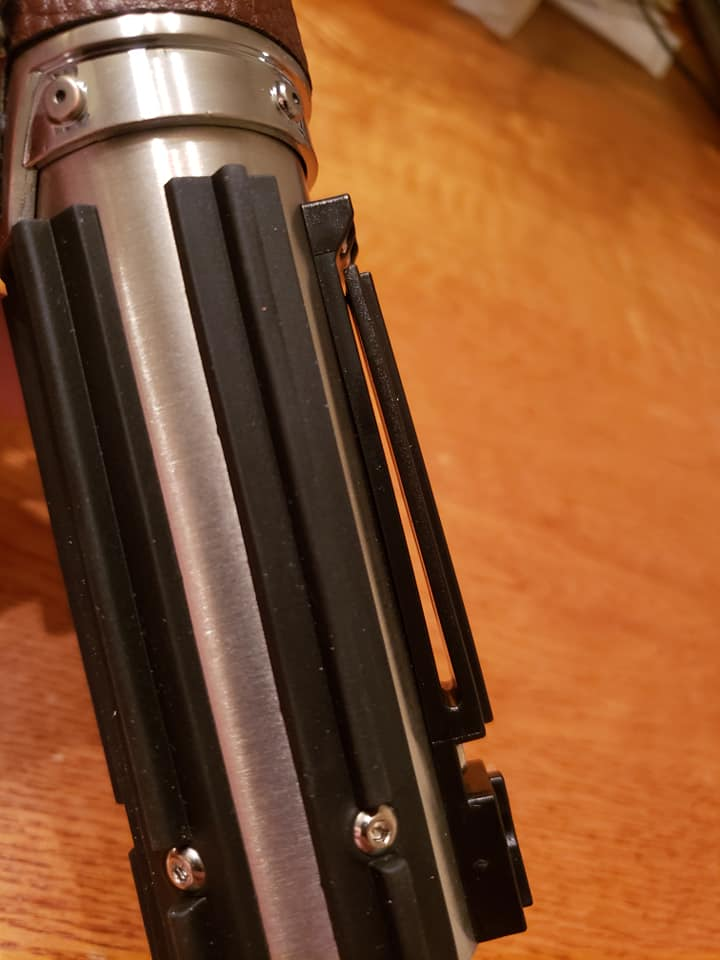 Luke ROTJ:
I decided to get this piece as I feel it's rather iconic (to me at least) during my childhood and it resembles Kenobi's ANH style in it's own right. Of all the saber hilts, this one feels the most lightweight, but I feel that it is partially due to the fact that the top-half that is removable is partially hollow inside. The overall feel and construction on this one is very high, and if it's just a display piece, I would highly recommend it, although I cannot speak for it's accuracy to the screen used saber(s). While I've been a fan of the hilt design, I've honestly never really cared for the hilt when used with a blade. I understand the necessity to add a bulky stand-in for the upper part of the hilt/emitter, but it makes it just look "fat," but that's just me. This replacement part is underneath the hilt tray. Overall I'm very happy with this. Very clean and display worthy
Hard to tell in the pic, but they are the red/green triangles on the control box. You activate the saber w/ side block
Before vacation and after vacation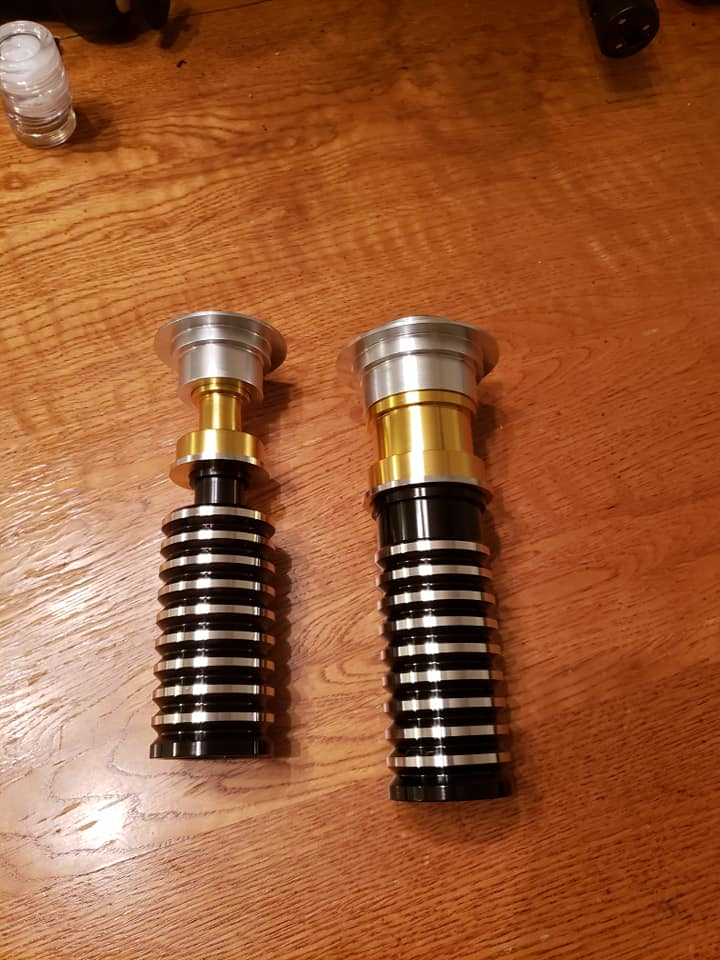 Savi's Workshop - Elemental/Nature
I'll spare the details of the actual experience (you can find videos of it online). They let you view a sheet that has a picture of each saber class, and each of the optional parts to choose from before you go in. When you "check in," however, you must decide what you are going with as they give you a pin with a unique design that reflects the saber class (Not pictured). You have to wear this when you go in as the workers inside will use that to ensure they provide you with the class you chose. I chose this as I liked the design elements a bit more than the others. One thing is that all the outer body pieces you pick are all cast metal, some are hefty in their own right. On my design, the "Rancor tooth" pommel, the actual outer tooth piece is plastic, but the cap it's attached to is metal. This was my first time taking it apart since the actual experience in the park, and I realized that I didn't put it together as well as I could have. I wouldn't say they rush you through it, but just didn't have a whole lot of time to screw around. If you can tell, it's the largest of the saber hilts here, of course semi-custom. The internal core piece houses the kyber crystal (which you can buy others and change out). The core piece is a sturdy plastic/metal construction. Putting the main shell components could be tricky at first as it was for me, but the entire assembly is quite robust and sturdy. I'd argue that some thread-lock would be nice to throw on there, but I don't plan to actually go around swinging and fighting people with it either. This is a monster though. It's not for everyone but what you're getting plus the overall experience, I think that they could have added more to the price IMO.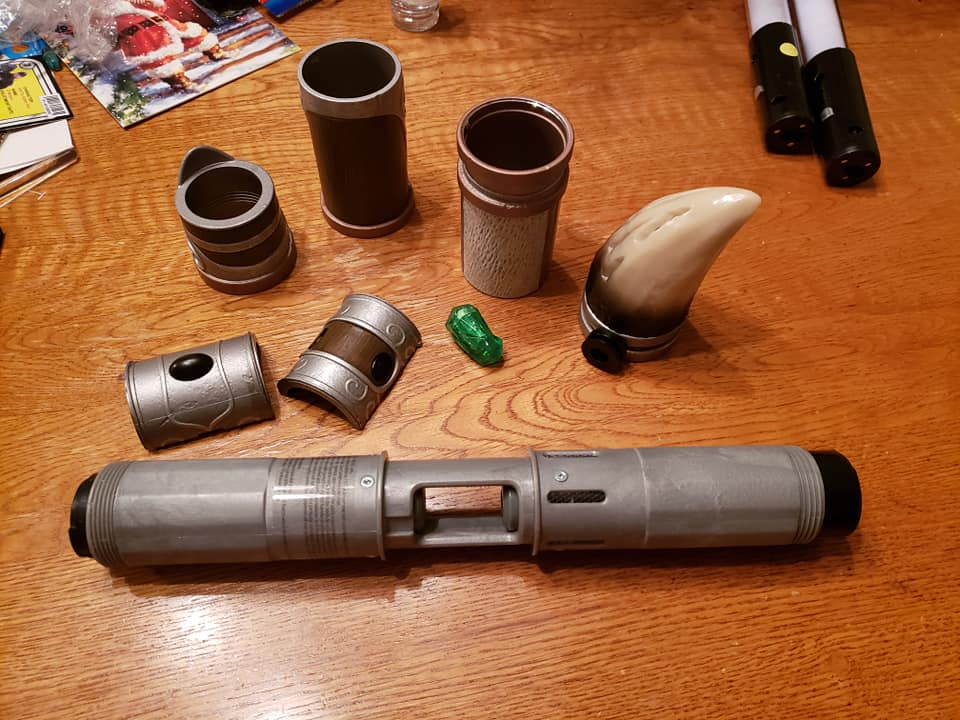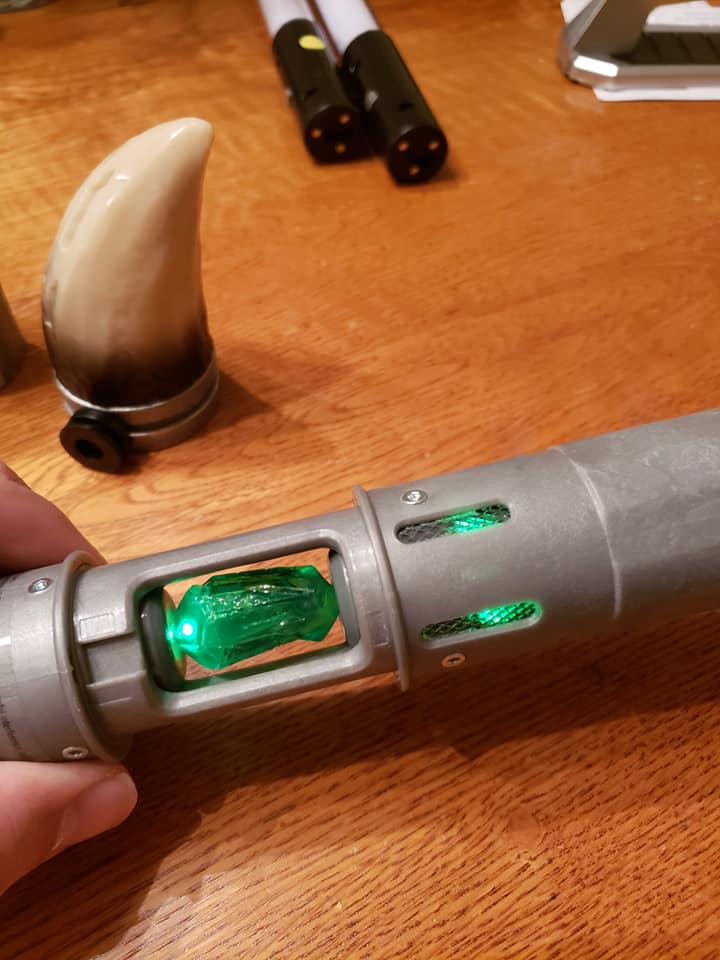 So, there it is! I really want to get the Mace Windu one at some point but they were unfortunately out of stock at the time
-TC
Last edited: