Sr Member
RPF PREMIUM MEMBER
Hello there,
We are proud to finally open our run of 4 types of screen-accurate Harry Potter and Ron letters!
The website is now live!
Julie (
Wonder Knight
) and I have been working on that run since November last year, yes, a year ago. There has been a huge lot of research and pre-production to find the most accurate materials and make sure that we replicate those 4 letters as close as possible to what we see on screen and to the references we have from all the Propstore auctions.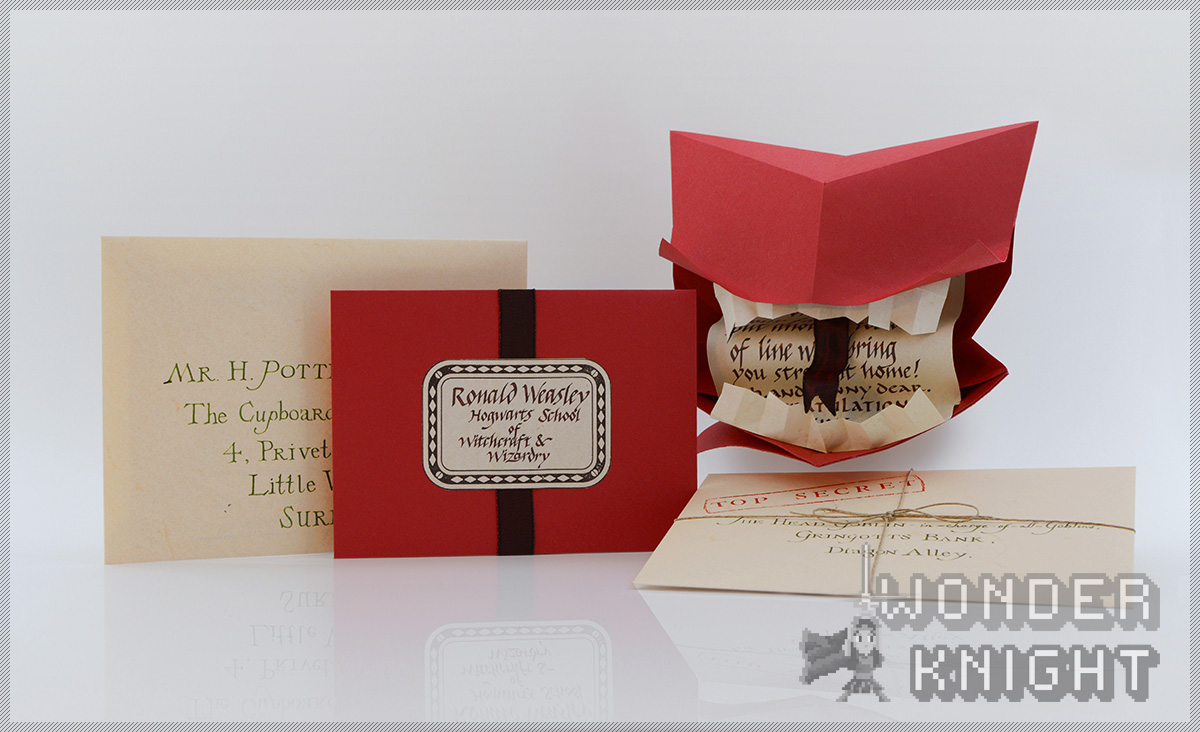 You can find the presentation WIP thread here for all 4 letters, don't hesitate to visit it, it has lots of photos of the creation of the objects and lots of explainations too:
4 types of screen accurate Harry Potter and Ron letters
Additionally, you can download a nicely formatted pdf, with a more compact explanation on all the work and research that was done for each letter normally attached at the end of the post.
important notes:
- For all sealed letters, each wax seal being handmade, their shapes will be unique and slightly different from what's shown on the presentation photos. A photo composition showing 9 random seals will be included on each type of letter page on the website.

- Those are not idealized versions, we tried to be as screen-accurate as possible in our replicas, this means that some recognizable flaws from the originals are reproduced as well for an authentic look, for example, the burnt streaks in the wax seals, typos in the letters, or the small tear-offs on the back lower flap of Ron's envelope. Those are not "flaws" in our work, those are intentional and important details
Here is a breakdown of each letter with a studio picture of what is included and its price:
(more pictures can be found in the WIP thread and will also be available on the website itself)
Harry's acceptance letter: 36€
(Sealed envelope containing the acceptance letter and the list of requirement + a duplicate of each of those 2 letters for display purposes. The additional letters are folded in half in the same spot they are folded in the movie.)
Ron's closed Howler: 36€
(Sealed envelope containing the letter from Molly + a duplicate of the letter for display purposes. The additional letter is folded in half here as well. the two ribbon flaps will be flat and straight on the letters you receive so they are not damaged during transit, you can position them as you please when you receive them as they have a metal wire inside the edges.)
Gringotts letter: 32€
(Sealed envelope containing a secret letter from Dumbledore)
Origami Ron's Howler: 70€
note: this is a complex and entirely handcrafted Origami; you will find folding traces and small marks specific to paper crafting that are completely normal and even sometimes voluntarily accentuated. Each object is unique and small variations of shape or expression can occur from what's shown in the presentation photos.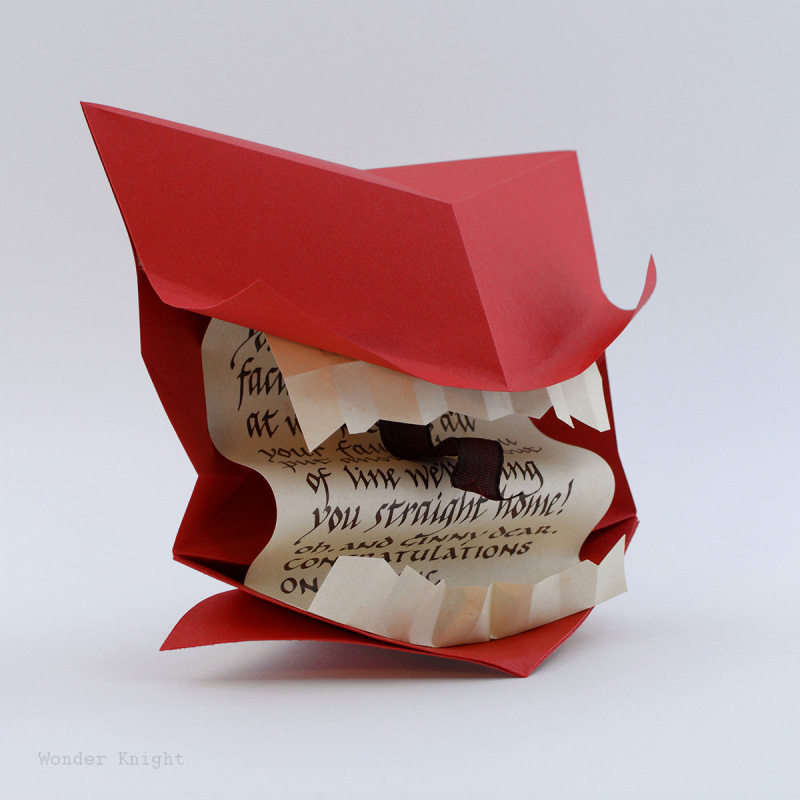 Additionally, there is a 10% discount when you buy 4 or more letters!
The letters can only be bought directly on Julie's new website; they are all in hand, ready to ship. The website is completely bilingual French/English. Payments are secured and are completely processed with paypal checkout. You can either pay directly with your paypal account, or by credit card or even with local solutions like iDeal, Sofort, Bancontact, Giropay, MyBank, P24, EPS...
Quick answer to a likely question, no, sorry, we can't sell the letters just with a paypal transfer directly between you and us, this is now our actual job and we have to edit an invoice for anything we sell, and this is done through the website. The website is pretty easy to use though and I think that Julie managed to provide a fun experience with its nice clean look and content
Shipping is handled by the French post service:
- The closed letters are quite small and light, they are sent in thin cardboard boxes and the shipping cost is quite cheap worldwide. It is automatically calculated at checkout depending on your location (after you create your account) and starts at 6€ internationally (and max 15€ for up to 8 closed letters. And from 3€ to 7€ in France). From my experience, this shipping method can be a tiny bit longer than larger boxes, but it's completely safe and it's fully tracked!
- The Origami Howlers are a different story due to their larger size, we have to use a larger box and this falls into the normal packages service which is faster and tracked, but is more expensive internationally.
We strive to keep our packings as ecologically friendly as possible so everything is recycled and recyclable, we don't waste or overpack anything but we make it as safe as possible. We also tried to find a way to make something nice if the letter is a present and easy to open and close back to check the item before gifting it, we hope we succesfully achieved that :
I hope you guys enjoy the letters; we have been working for a very very long time on them. We are working on creating our new business with Julie for a little more than 2 years now and this is finally the start of the real journey
We tried to make everything perfect and working smoothly on the website and we really hope there won't be any unforeseen issues. We have had a bit of a test since I launched my own website a few days ago already for the Blade Runner badges, so this should go smoothly
Please don't hesitate to contact me if you have any trouble, this is all new but we'll work with you to fix any problem you may have
Quickest way to get in touch with us is by my mail as I'm more fluent in English and you guys already know me:
contact@supergreenprops.com
In any case, Julie's address and the official contact address for her website is:
Julie@wonderknight.fr
Thank you all, I hope you enjoy our work and we are definitely looking forward to start shipping those, in time for Christmas normally
The Run is now open and the website is live! Enjoy
www.wonderknight.fr
​
Last edited: