Hi Everyone,
*EDIT New video tutorial!*
A week ago or so, I started crafting my 3D printed lightsaber, for May the 4th day. A lot of the images and references I found that were exceptionally helpful were from here, so I thought it would be fitting to share the results back here.
A little disclaimer... I'm not well versed in the hardcore details and the finer points of lightsaber prop building, nor do I understand half the of the acronyms put forth here... so if something is off, or blasphemous in the eyes of builders, I'm sorry! I don't even know exactly which particular model I made or how accurate it is. (besides the fact that it's an Obi-wan kenobi one from ANH- I think).. While I like Star Wars, my knowledge doesn't go beyond that of a casual fan... Maybe you experts can enlighten me.
So here's my final design in 3D space. 14 pieces total. They are broken up the way they are because there's certain orientations of a part that nets a more uniform outer surface. I've since simplified the design to 4 main pieces that makes it far easier to print... but is slightly less accurate to the design. The one you see here is the 14 piece version.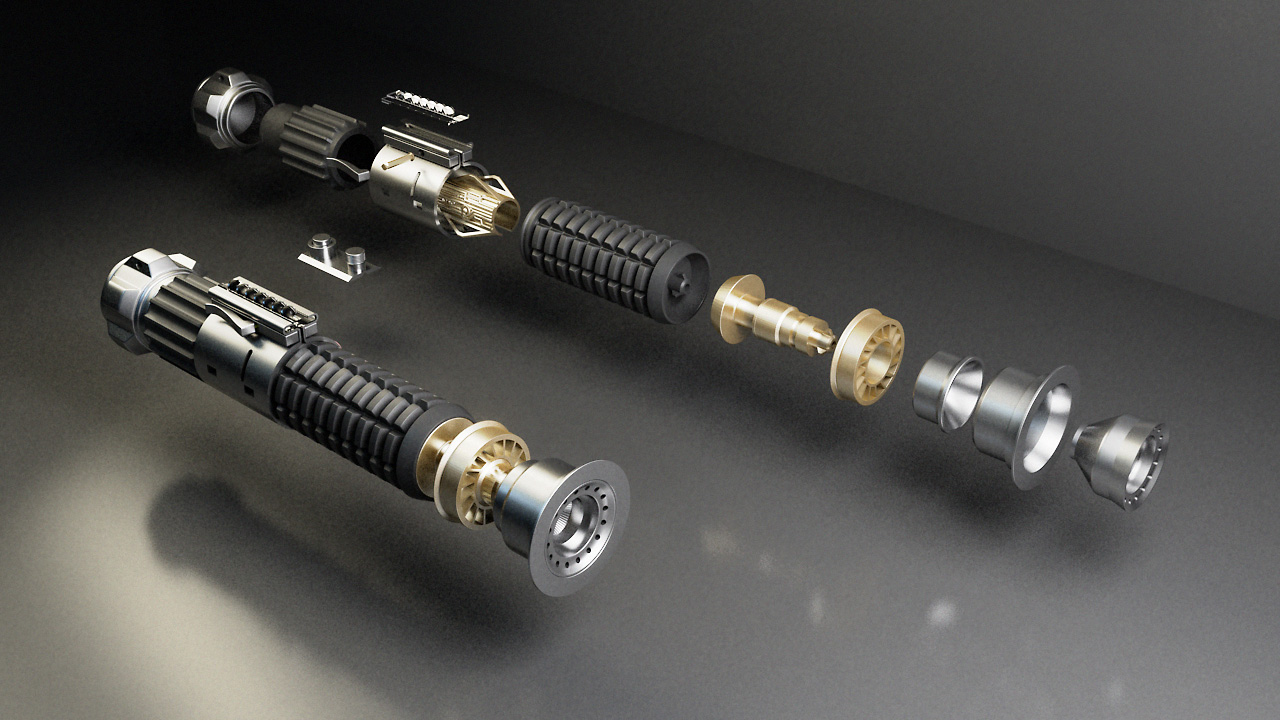 I printed it on a Ultimaker 1 in PLA. It's one of the higher end, consumer level printers that deposits lines of plastic. Imagine a hot glue gun attached to a CNC head.
Here's how all the parts come out: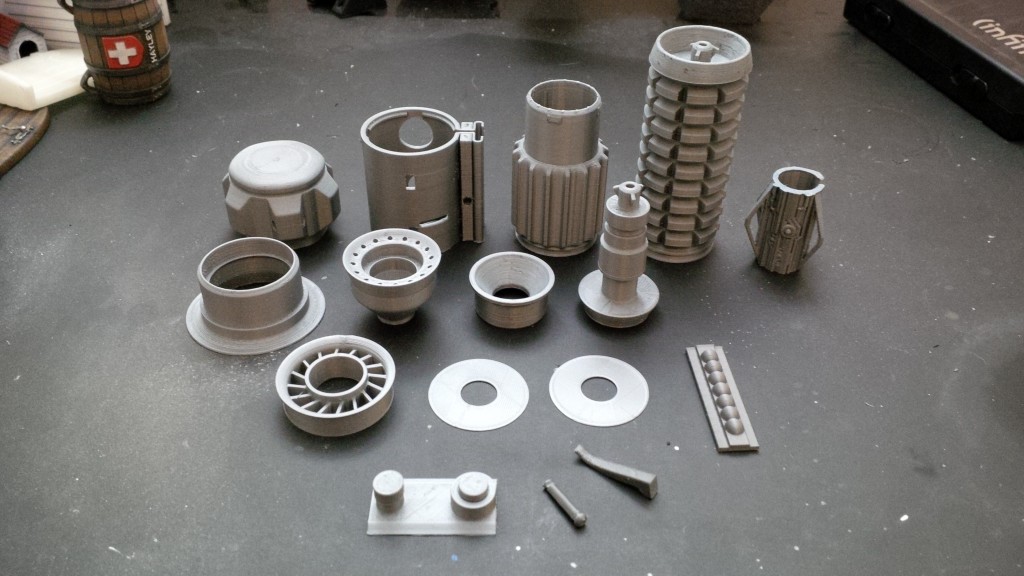 And what it looks like assembled! -no glue required!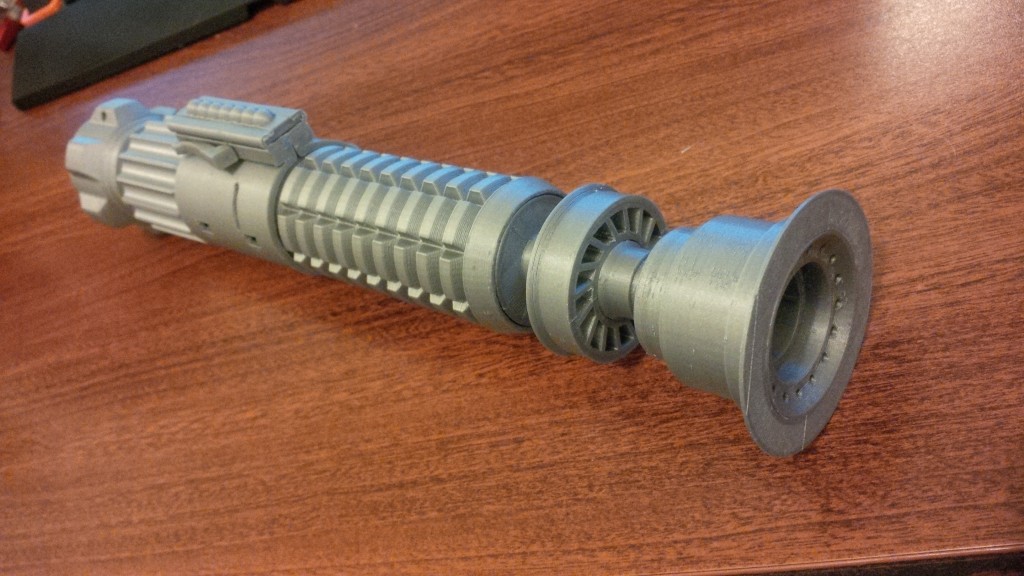 And here it is painted. Going for the heavily weathered look. (illuminated with a blue laser)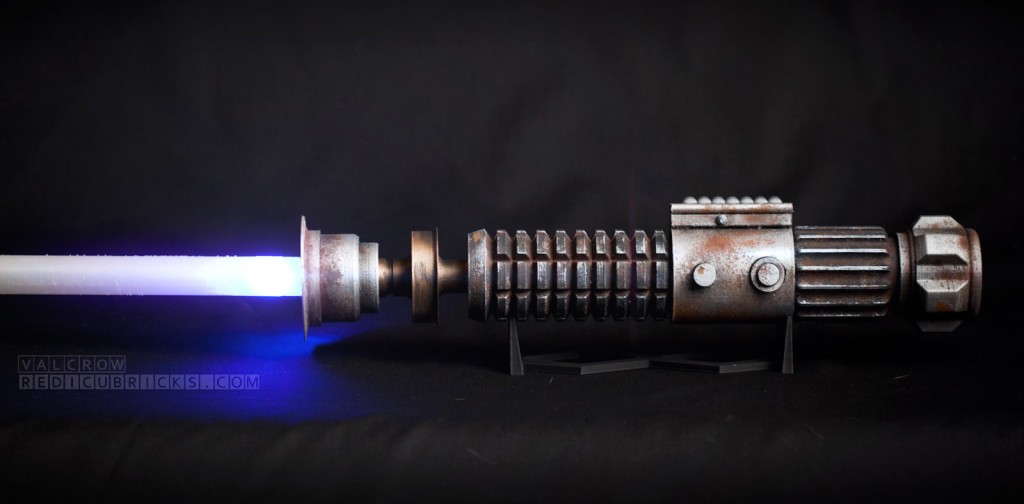 You can see the print layers here. For reference, they are 0.12mm per line. The grenade is 0.2 (I got impatient)
Quite happy with my rusty effects. I unfortunately didn't have any translucent plastic so the bulbs are grey... But I kinda like how the raw 3d printed look contrasts with the painted look.
There's a few more pics in high rez
here
.
And... if you happen to have your own printer, The models are up for free. so you can download and print your own. Happy May 4th.
Thanks for looking! & the inspiration.
Valcrow
Last edited by a moderator: