Hi, just some of my recent work.
This started because Funko didn't produce any of the other astromech droids seen in the newer Star Wars films. I wanted an R5-232 & also R5-2JE, being an R5-D4 fan lol. So using the POP I had I used it's dimensions to model R5. This I created last year and posted up on my Thingiverse page.
Since then I modelled R6's dome version R6-LE5 as well as R5-PHT from Solo. My latest design is an R4 domed POP, as I wanted a version for my own built droid. I had to scale the domes size to be taller than an R5 but not make it to high. Then the other week I was scrolling through stuff and came across an R2-D2 which had been put into a carbonite block…..
.
…so I found some references pics of the POP version and created these an R5 & R4.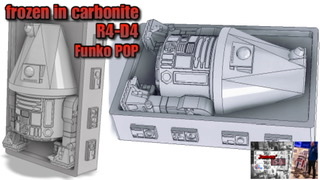 Links to my Blog and Thingiverse page:
Download files and build them with your 3D printer, laser cutter, or CNC. Thingiverse is a universe of things.
www.thingiverse.com
The carbonite versions aren't up yet, as haven't test printed these myself yet.
Also links to my YouTube channel:
R5-D4 Funko: