Now on Ebay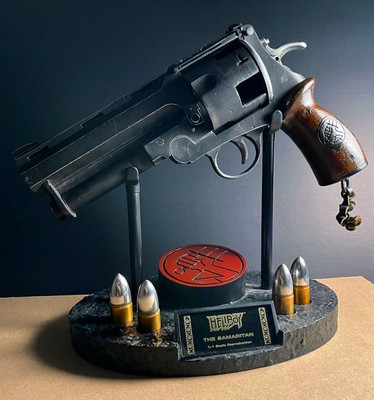 Find many great new & used options and get the best deals for 1:1 fullsize Hellboy (2004) Prop Replica Samaritan Revolver Sideshow #20 of 1000 at the best online prices at eBay! Free shipping for many products!
Price drop to $700 shipped (continental US only)
This is the prop replica made for the FIRST Guillermo Del Toro HELLBOY film in 2004.
Note: Lot contains the pistol replica, the stand, the four bullets. No box or paperwork.
These items have been on display in my collection since purchase in 2004. There is no obvious damage that I can see. Please use caution when operating moving parts (particularly when swinging open the gun to insert the bullets. It needs a gentle touch, do not break it).
Note that the items, particularly the base, is very heavy. When all items are assembled on the base the weight is nearly 10 pounds! It will be packed well for shipping.
Last edited: