Sr Member
RPF PREMIUM MEMBER
My backburner / spare time 3D modeling project for some time has been making a definitive detailed model of the VF-1 Valkyrie from Macross, specifically the updated design from the 1984 movie version Do You Remember Love?
Progress has been slow, getting the details right, and getting the tranformation to work as designed (rather than the simplified interpretations in toys and models), but the results so far have generated a lot of interest and excitement on the Macross World forums, where I have a WIP thread.
Here are some of the progress renders I have shared of the untextured WIP model there: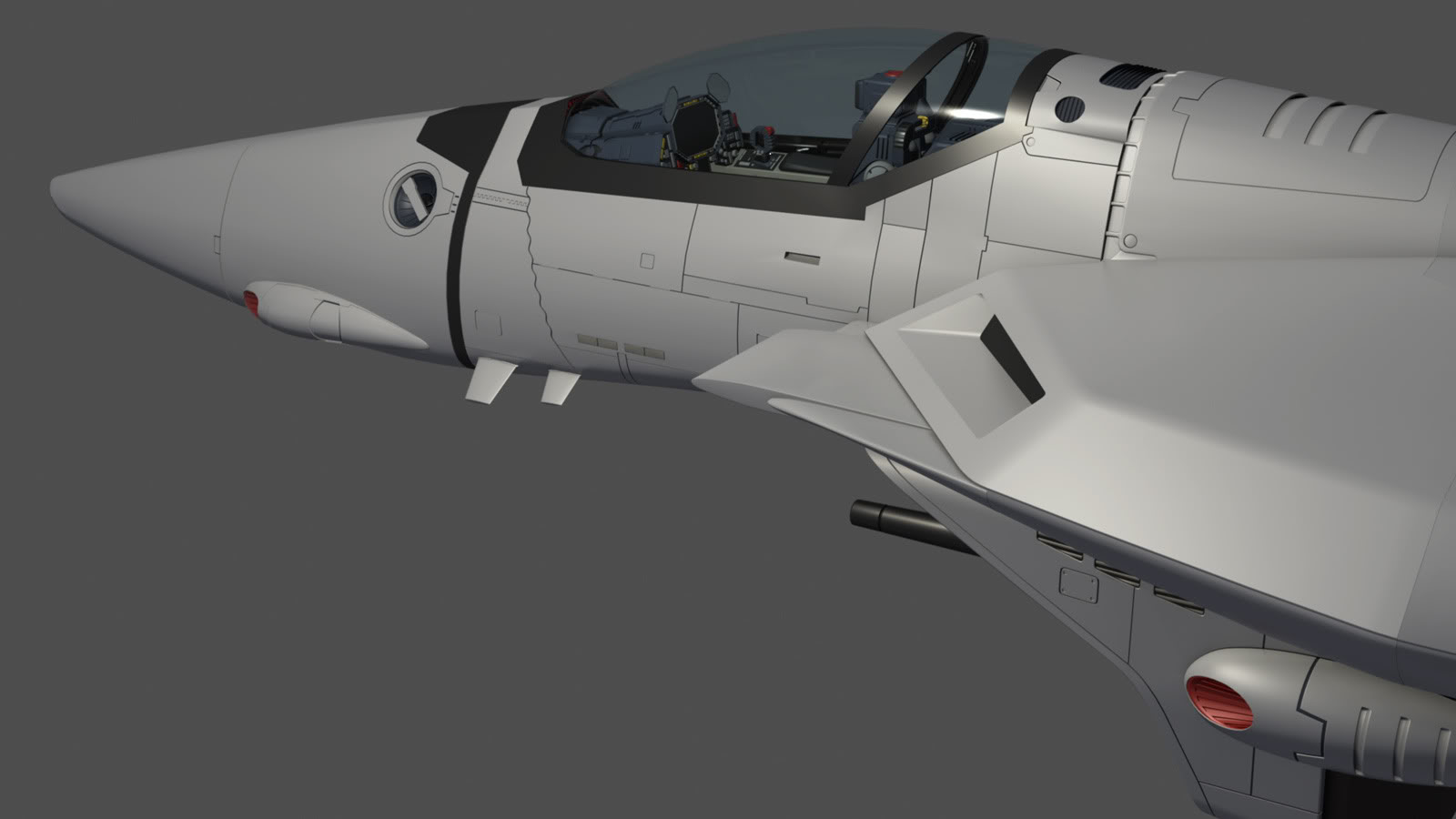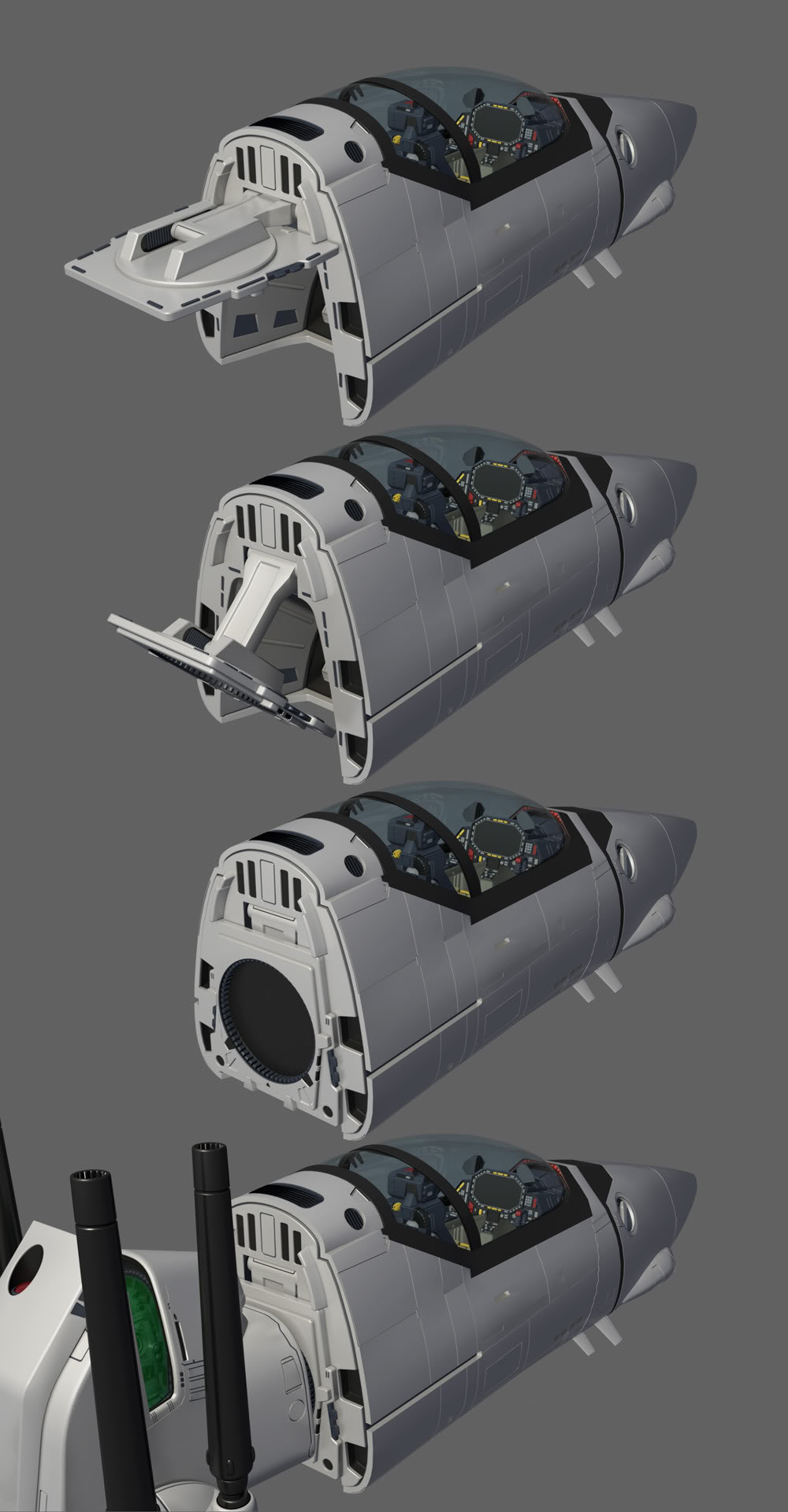 Popular demand about the possibility of a 3D print version got me curious, so I got sidetracked researching the tech available. I decided to start with the VF-1S head model.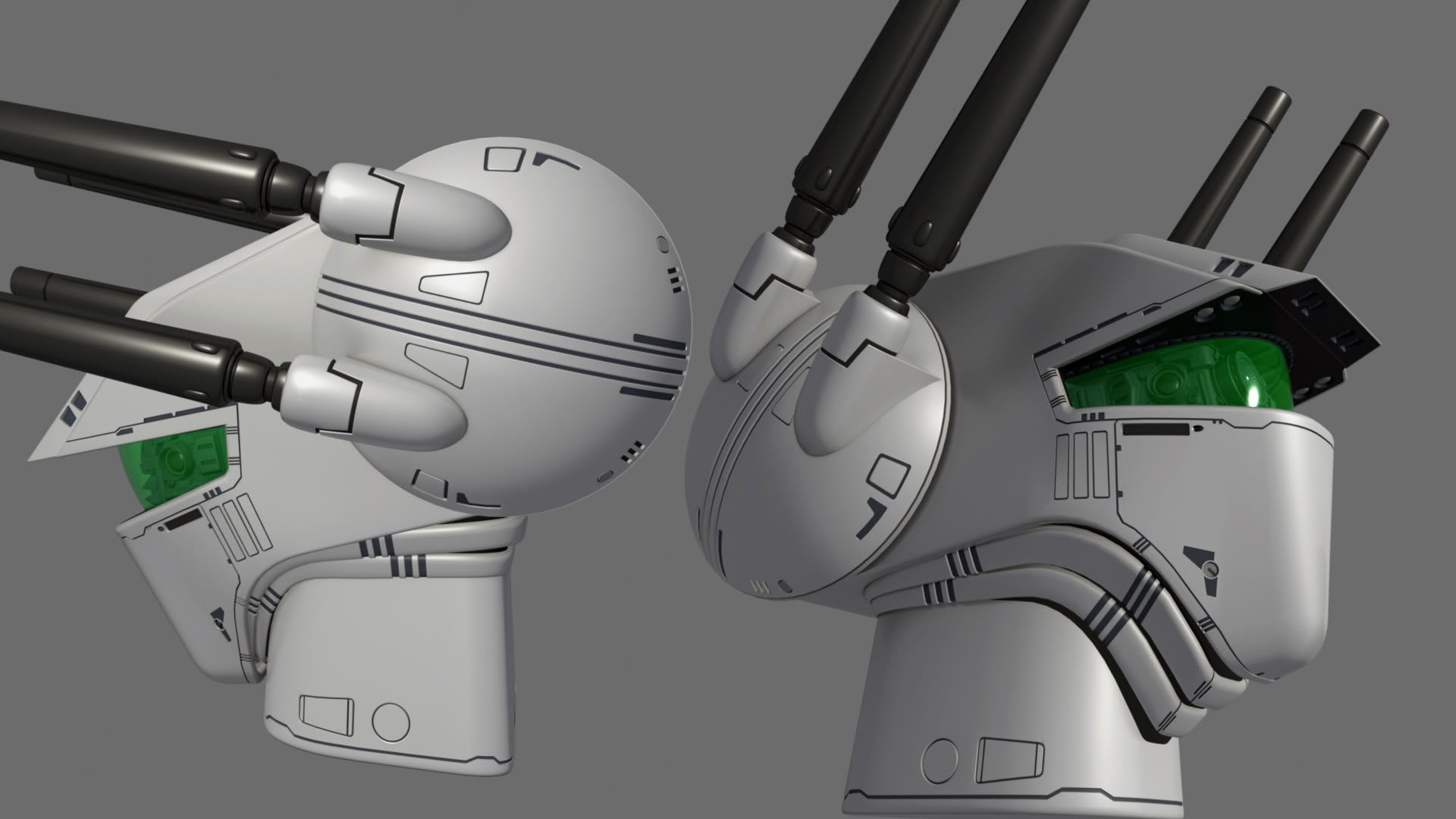 I prepared a sub-d version of the model, watertight, and made hollow to make a lighter and less costly model. I decided on Shapeways for my first attempt, and settled on their Frosted Ultra Detail material, designing the model dimensions around the limitations of that material. 1/24 scale turned out to be the sweet spot, where 95% of my details would be big enough to print within the minimum detail size of 0.1 mm, and no walls would be under the minimum wall thickness of 0.3 mm.
Here are the parts prepared: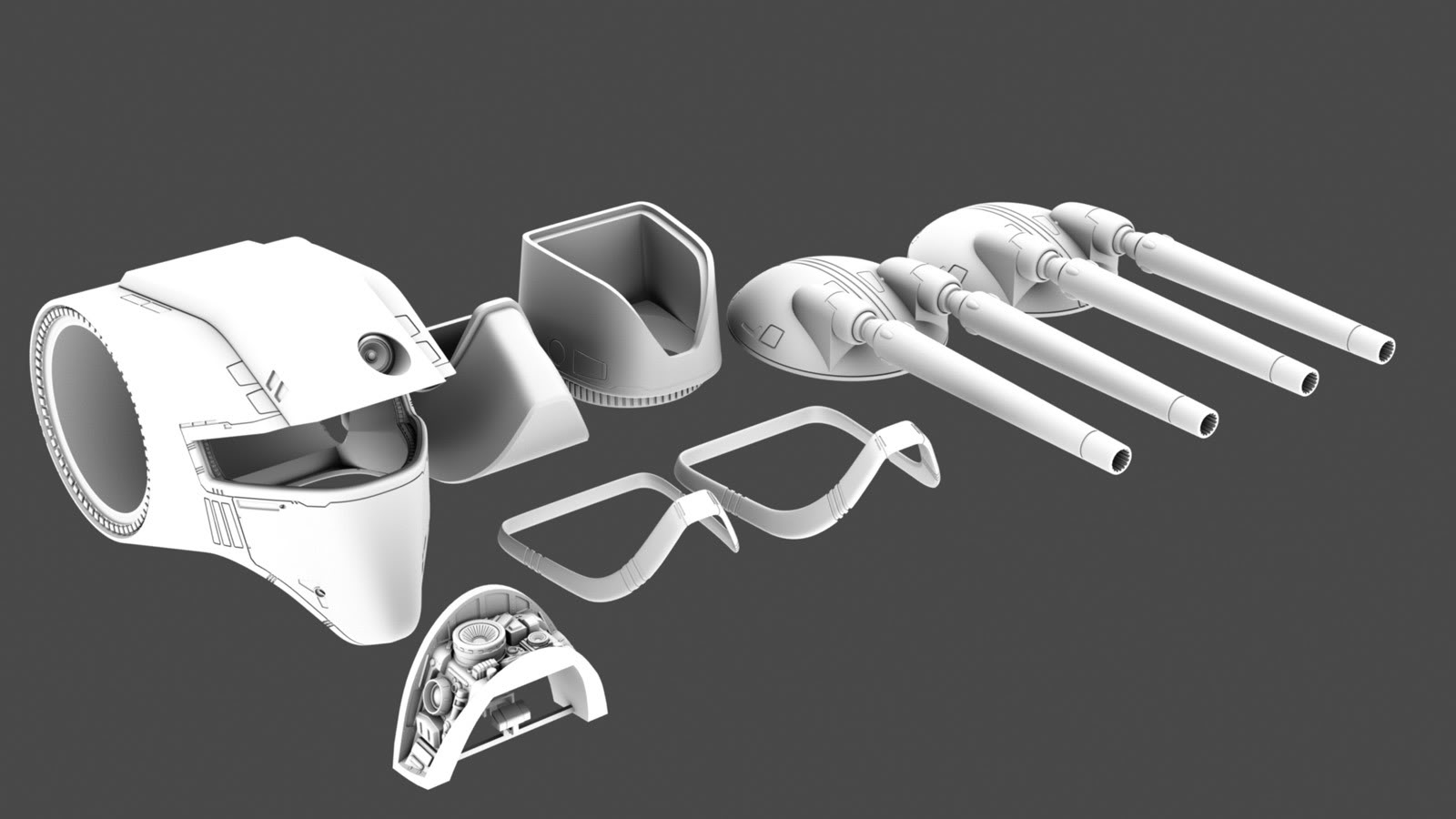 I uploaded this and placed my order, at a cost of $105. Chalk it up to beginner's luck, but the model was not rejected, and 2 weeks later I received my print: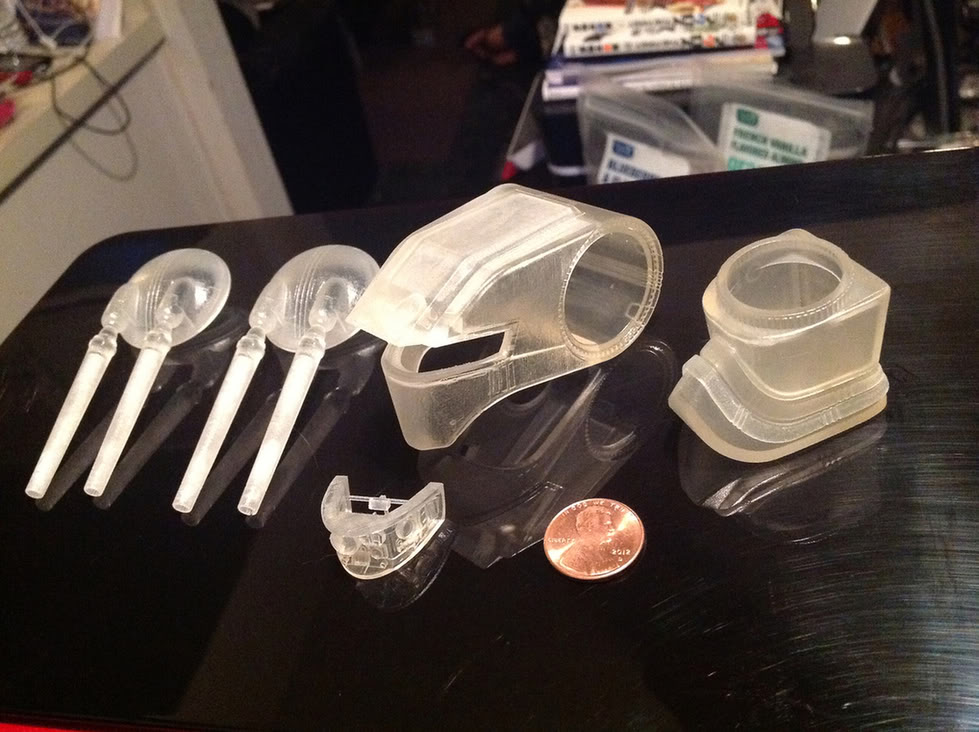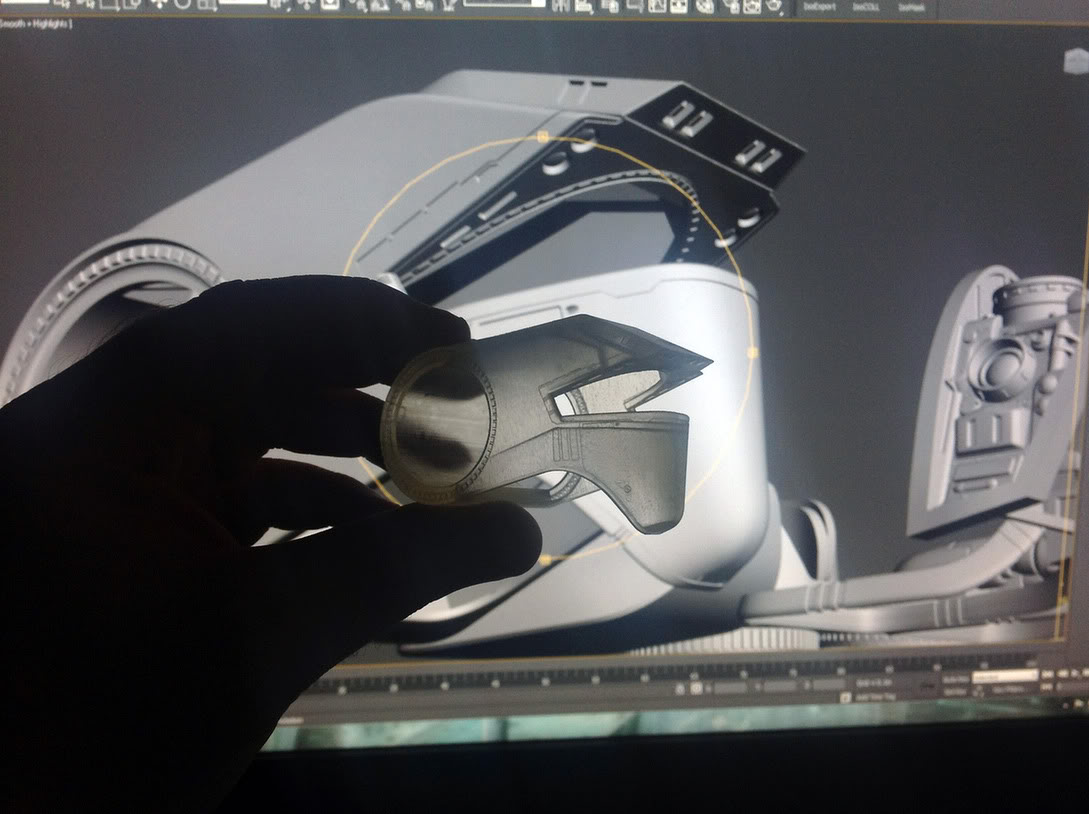 The print arrived undamaged, and with crisp intact detail, although quite greasy and with remnants of the wax support material deposited in the build process for this particular type of material. After some time spent cleaning, via ultrasonic cleaner with hot water and dish soap, and extra work to get the wax out of the hollow gun barrels, the result was some clean parts, ready for primer: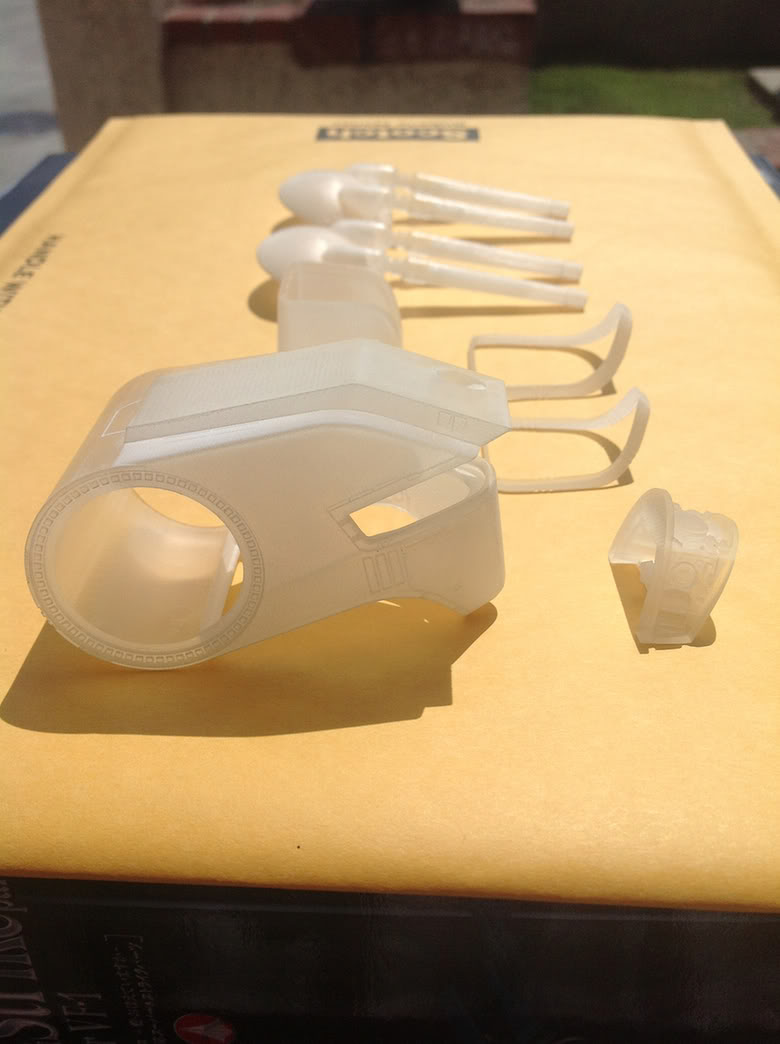 After a coat of Tamiya fine gray primer, the details popped out, along with some flaws: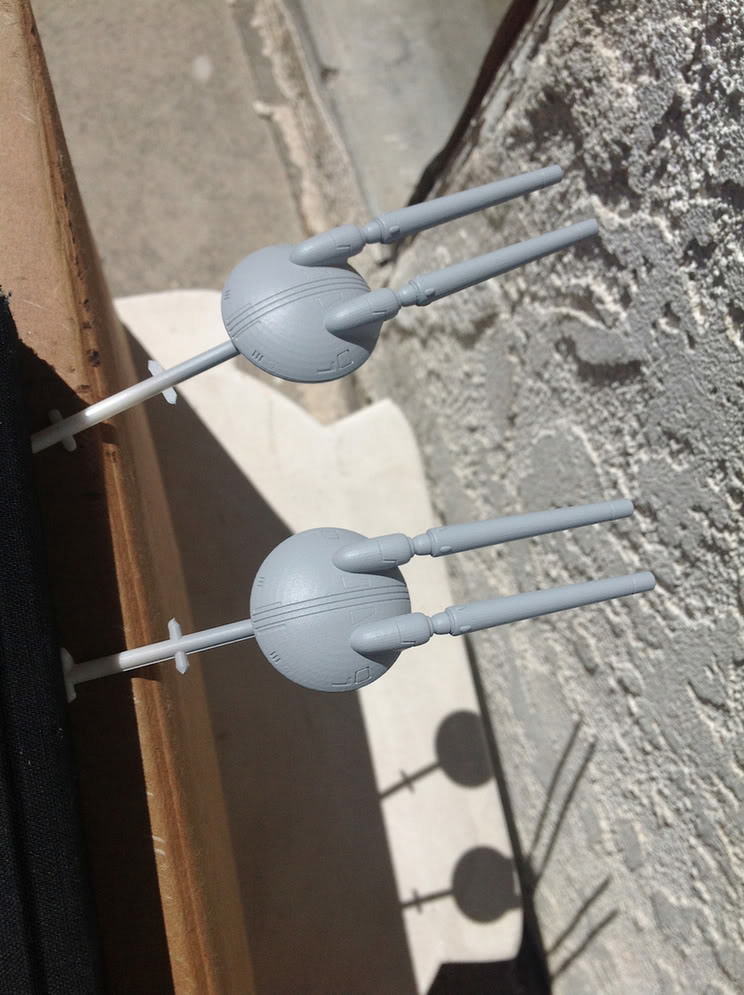 There were some minor print lines, along with some faceting on the curviest parts, but some light sanding helped a great deal.
Handed off to my buddy Derek Simon (with better traditional modeling skills than me), it was painted up and assembled:
The clear parts were too thin to print, and none of the materials available are clear enough anyway, so Derek improvised with clear green plastic from a Perrier bottle and Elmer's glue for the small lenses.
I'm pretty pleased, for a first try at this. At the very least, I learned a lot. I've already made revisions to the model to fix minor problems and to crank up the resolution to avoid faceting (slipping just under the Shapeways limit of 1 million polys and a file size under 64 Mb via zipping the file), and made a vac form buck for the clear parts. We'll see how those parts turn out in a few weeks.
Overall, I've had a great experience with 3D printing so far, and I intend to move forward with it and eventually print all of my model (part by part, as I complete it, which will help with the expense).