Sr Member
RPF PREMIUM MEMBER
Hello! This is a pretty simple build/paint. Someone over on Starship Modeler gave me the bug to build a TIE Defender. I'm a big fan of SW Squadrons, and the Defender is a playable ship in that game.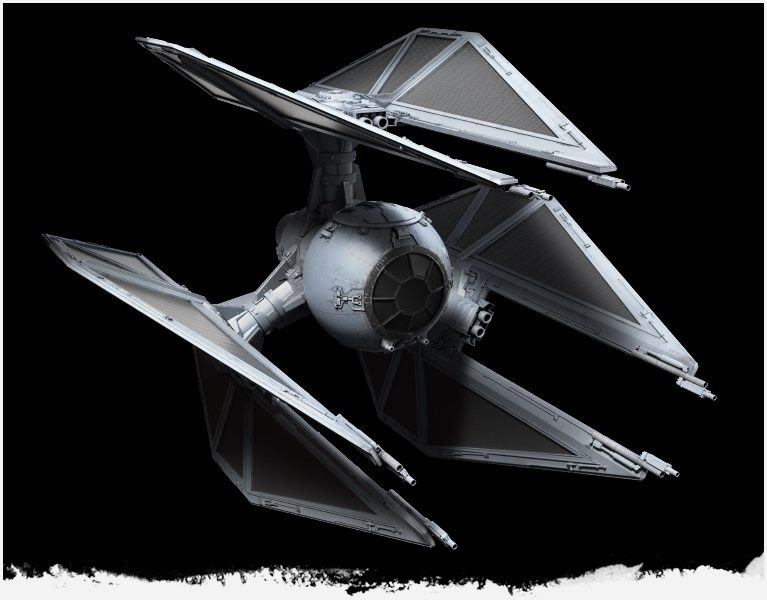 The 3D model is fairly well detailed, and I bought the files from
ModelWerks here
. After reviewing all the parts, I was able to get things printed out pretty easily on my Elegoo Saturn, and everything fit nice and tidy on one build plate.
Then I ran into a hitch. The way that this is designed, the ball is split vertically into two halves. I didn't think this would be a problem, but after printing, support removal, curing (and resulting shrinkage), the two halves didn't exactly line up.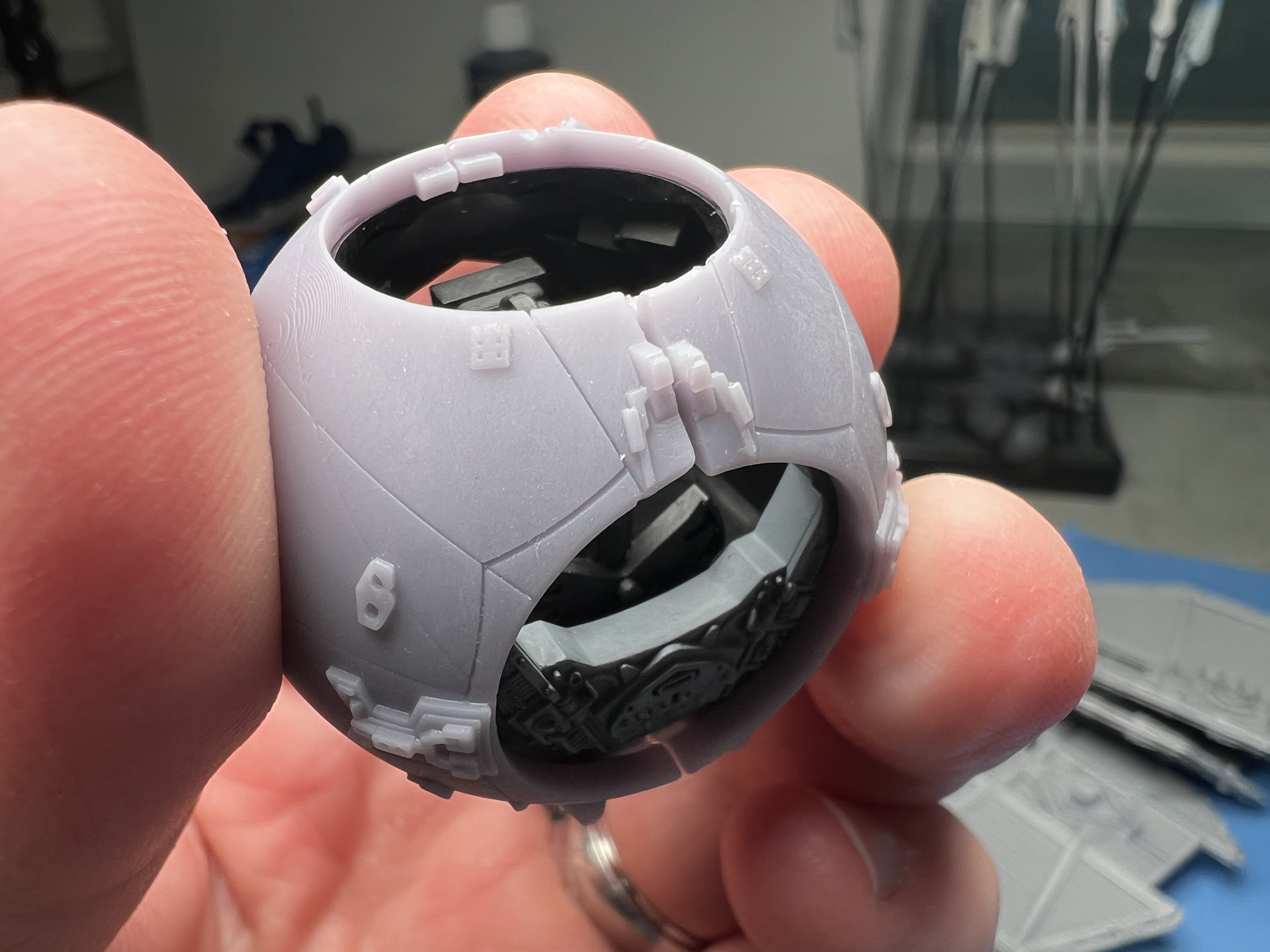 That cockpit consists of 5 pieces, and there was just too many things going on for it all to fit together well. SO! Back to the computer I went. I brought all 5 files into MeshMixer:
And combined them all into one part: (MM makes the preview of the model pretty low-rez. The actual model is fine)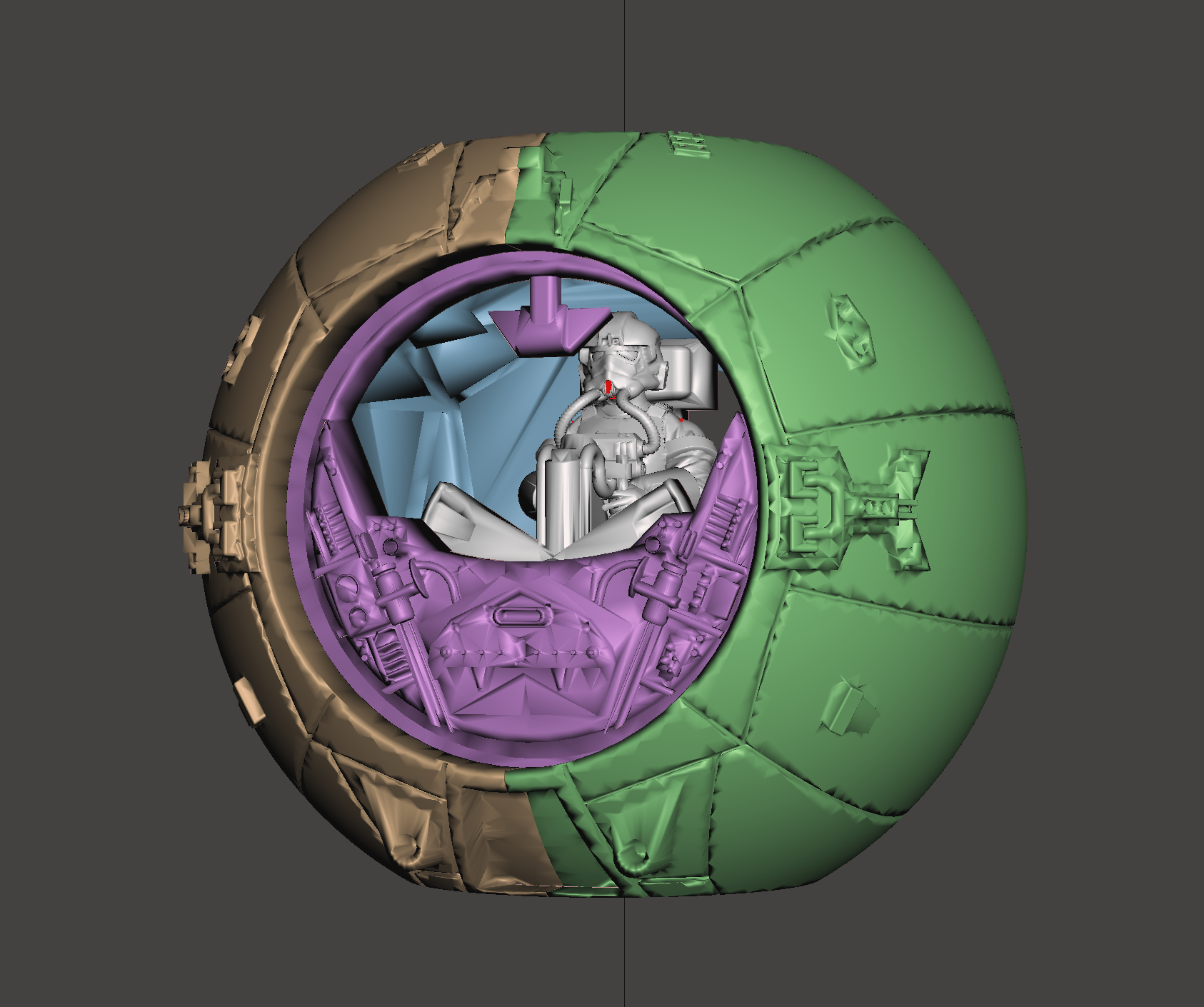 With that, it was saved out as a new STL file and brought into ChituBox, with supports being added: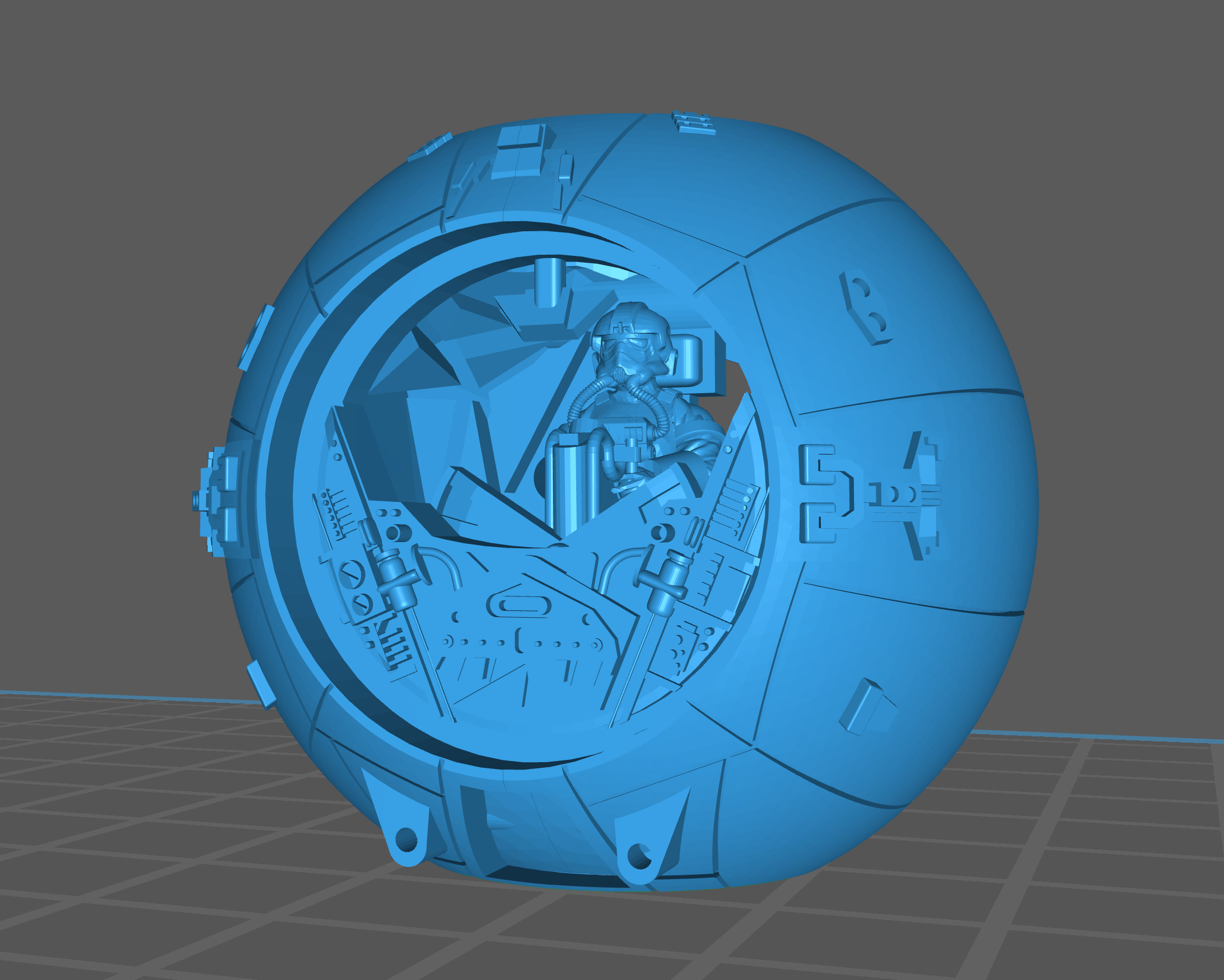 This might not be the most optimal way of printing/supporting a sphere, but it printed perfectly on the first try, with just a few support marks on the back of the ball to cleanup.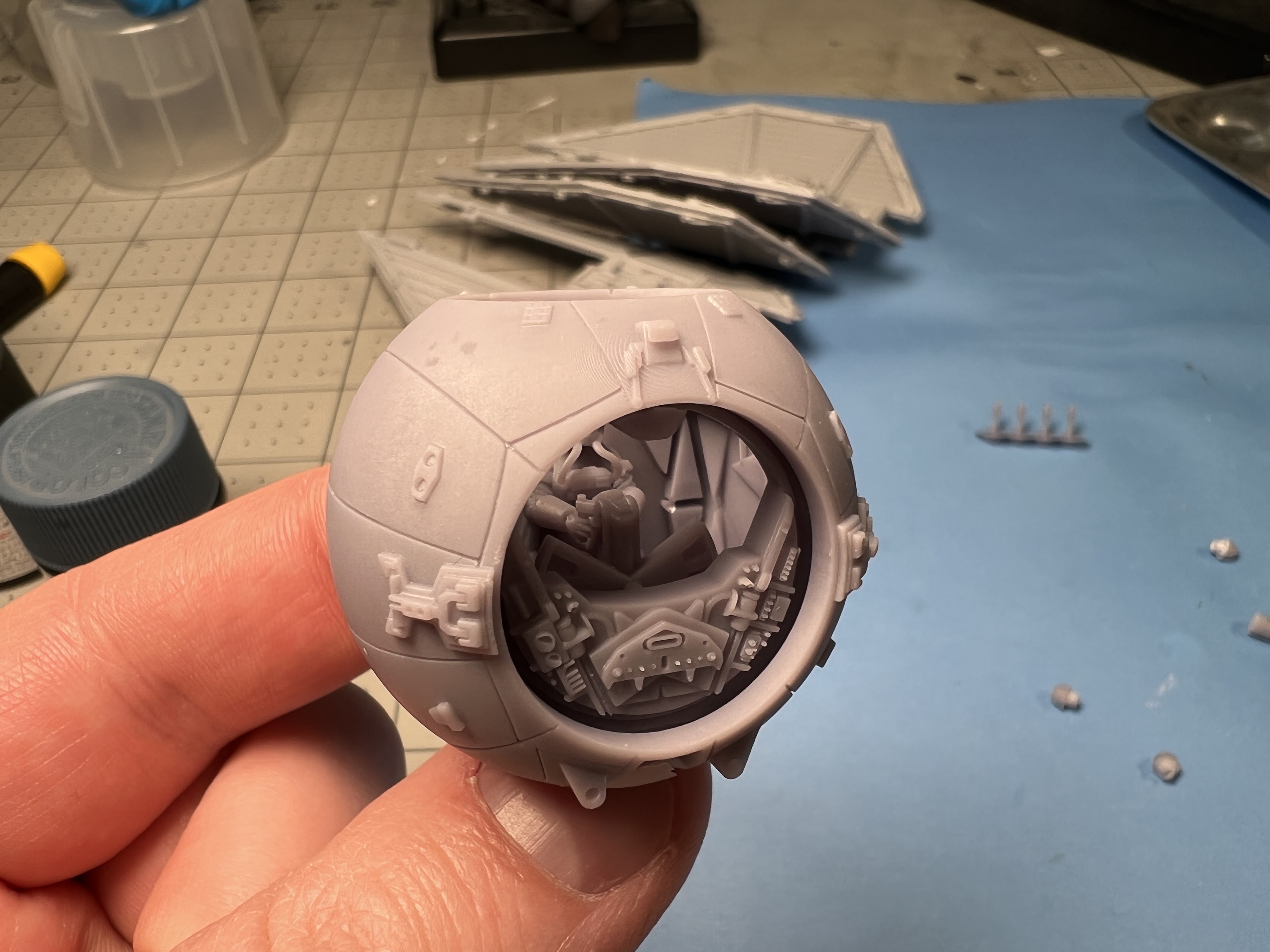 You can see a few layer lines in there, but I think between primer and a bit of sanding, those'll go away. It still blows me away that you can just
print
stuff like this. Here are some closeups of the cockpit and pilot: (and remember, this is all one part now):
This will all be painted black shortly.
I cleaned up the supports on the wings and the engine tri-section, and those got a layer of Tamiya fine surface primer: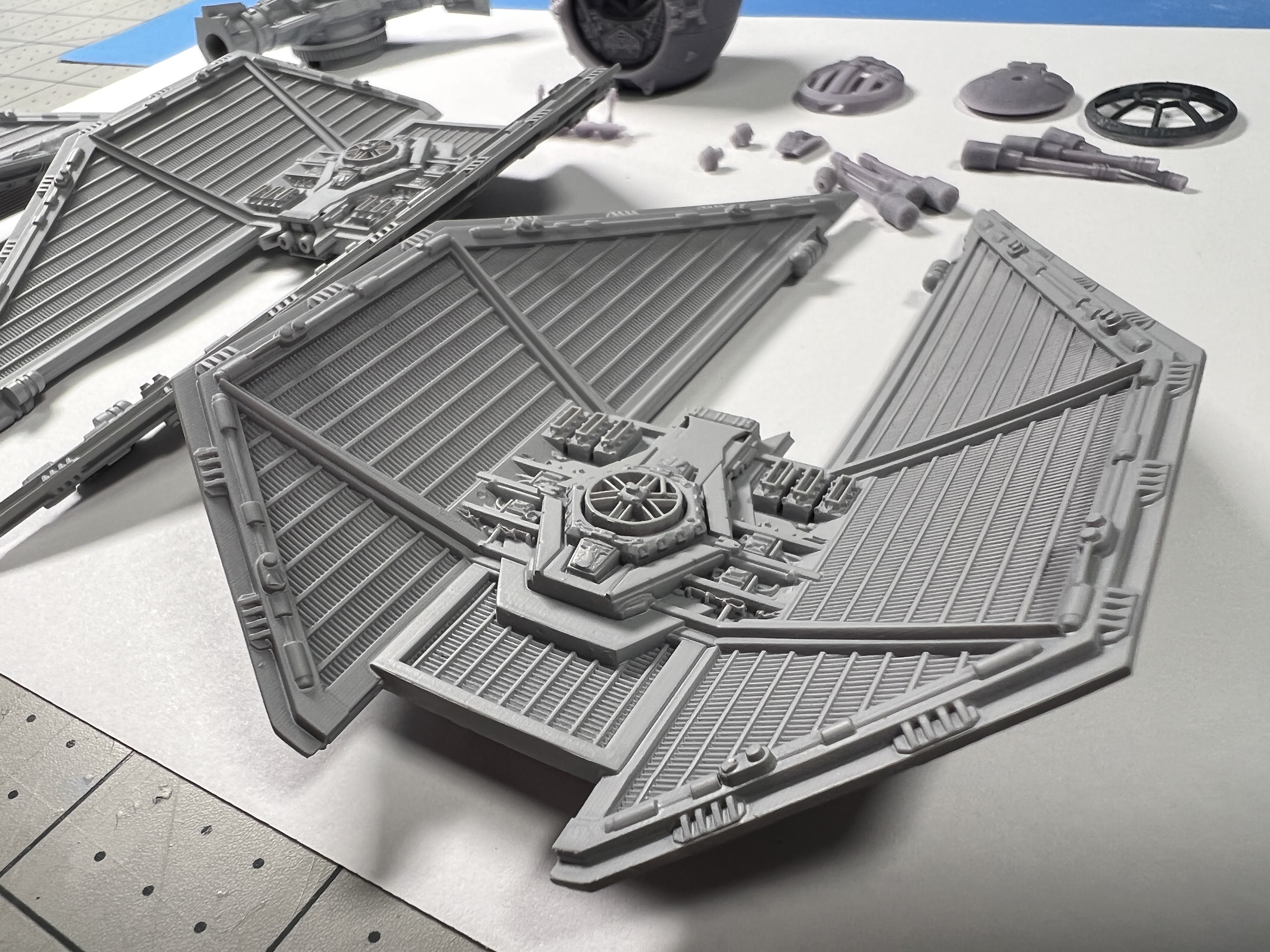 Here is a group shot of all the pieces together. A simple build, really.
I'm going to wait for some warmer weather (maybe...) before I prime the new cockpit section and the rest of the parts.
Now on to color.... I know that the close Tamiya paint for the ANH TIEs is TS-32 Haze Grey, but I think that that is a bit too blue for my liking for this build. I am going to reference the SW Squadrons image at the top of this post for paint color: more gray with a dash of blue, rather than the other way around.
Anyway, that's all for now. I wasn't going to do a build thread on this one because it is such a simple build, but I thought I'd show some of the 3D stuff I did in MeshMixer in the hopes that it'll help someone else out someday.
Stay tuned for more!
SB