Sr Member
RPF PREMIUM MEMBER
Hello everyone! Happy Star Wars day!
This thread will be used to keep track of the initial run for this 1/48 resin Y-Wing kit that I am offering. This is the Chris Bibby CG model that has been modified (with his blessing) to be more accurate. First off, I'd like to thank
Hagoth
for sculpting a new canopy for this model: it is more accurate to the studio scale models than the original canopy that came with the model. In terms of the accuracy of this model overall compared to SS models, I can't really comment on that. I can say, however, that the details of this model match the Bandai 1/72 model
VERY
well. This has been a long road for me to get to this place with this kit, and producing parts that I am 100% happy with offering for sale. You can read my build thread in which I document the ups and downs of building this model for the first time here:
Hey all. I've run into a few conflicting numbers surrounding the official length of the Y-Wing. I am 3D printing a 1/48 Y-Wing because Bandai didn't do one, and I want to get the scale correct. The official Star Wars databank says that the Y-Wing is 77' long. This works out to be 19.25" long...
www.therpf.com
INTEREST LIST FOR 1st RUN:
1.
Inquisitor Peregrinus
-
PAID - SHIPPED
2.
Dedalus5550
-
PAID
-
SHIPPED
3.
edge10
- PAID - SHIPPED
4.
skahtul
- PAID - SHIPPED
5.
This first run will be limited to 5 kits. First come, first served. **Please respond to this thread if you're interested so that I can get you on the list, and then I'll PM you with PayPal details**. Production time is 1-2 weeks per kit, although it varies.
Pricing Information:
Each kit costs
$200 (PayPal f/f) + S/H
. Shipping to the US is $25.
I cannot offer international shipping at this time, unfortunately.
The payment will be split in two, with a $125 deposit to begin producing each kit, and the balance due to be paid once the kit is finished but before shipping it out.
Anyway, onto the details!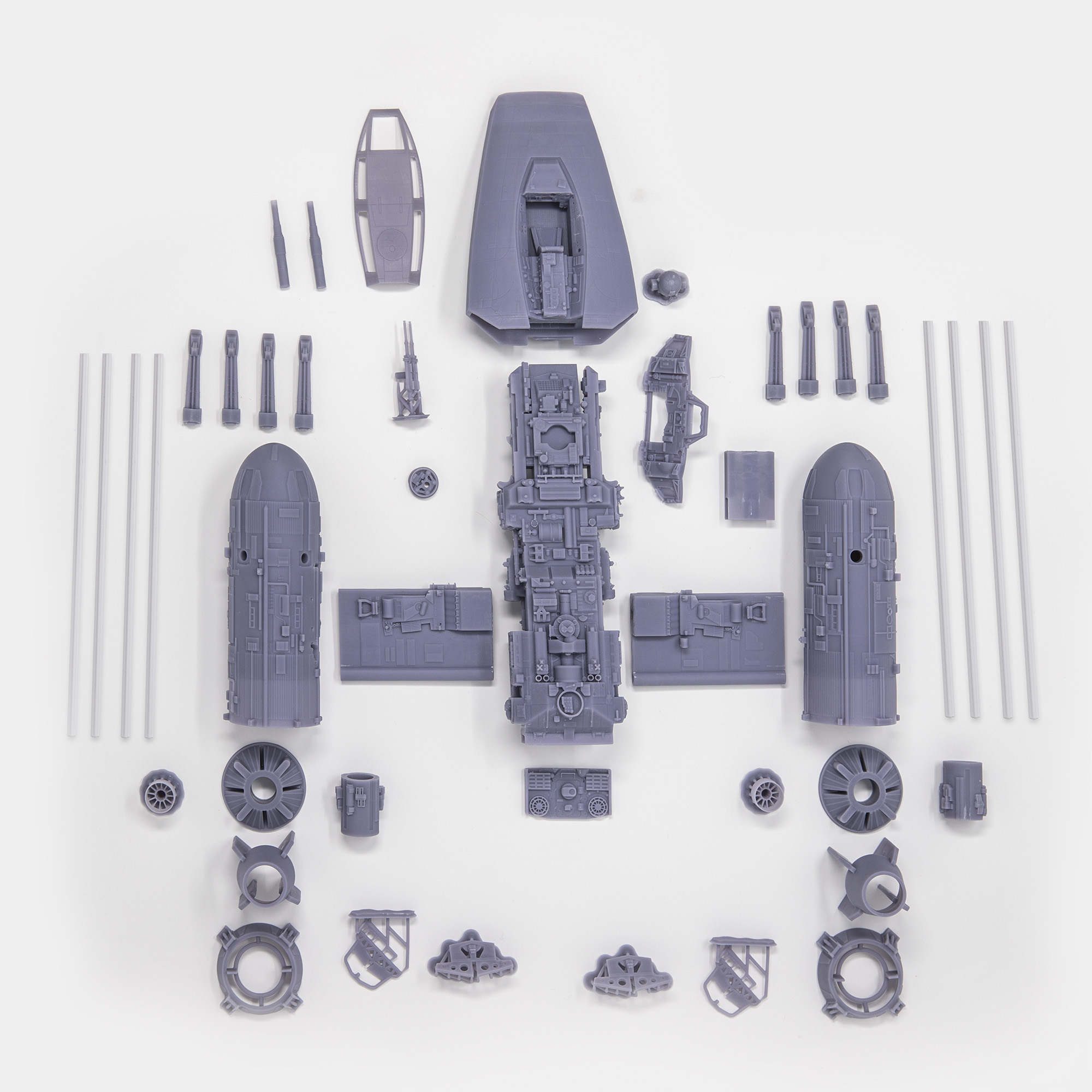 There are 45 parts included with this kit: 37 resin printed parts, and 8 t-rods for the struts.
Just a word of caution: cured UV resin is very brittle. Please be gentle when working with some of the smaller parts!
NOTE: pipes are NOT included with this kit. You'll have to source those from somewhere else. I used 3/64 brass rods on mine. You can find them here (you'll need two packs):
K&S 3/64 in. Dia. x 12 in. L Brass Rod 4 pk - Ace Hardware
Piping instructions can be found here:
https://www.scalemates.com/products/img/8/0/9/955809-63-instructions.pdf
Instructions for assembly can be found here (note: I have combined many parts for ease of assembly and production):
Exploded View - Google Drive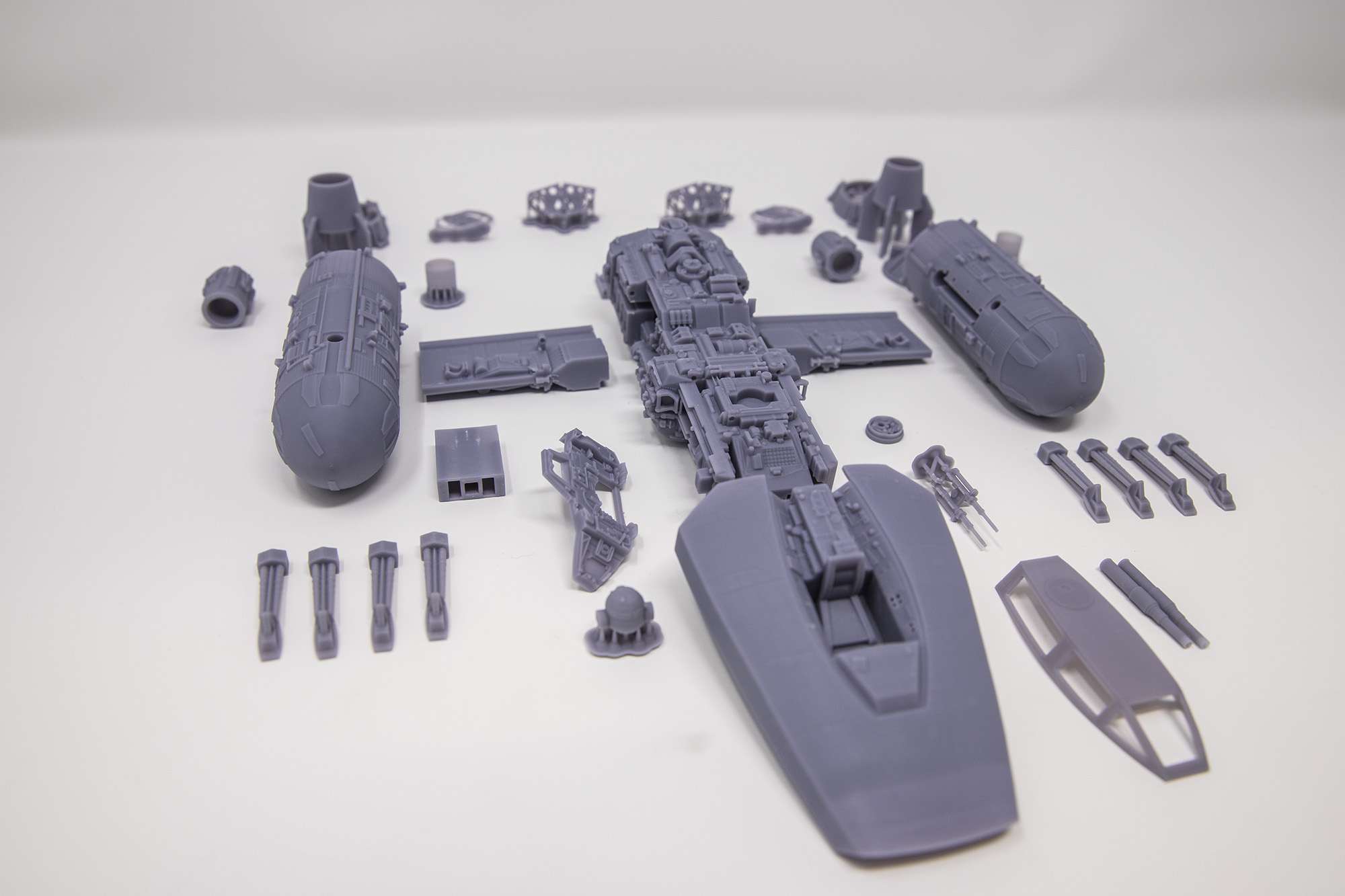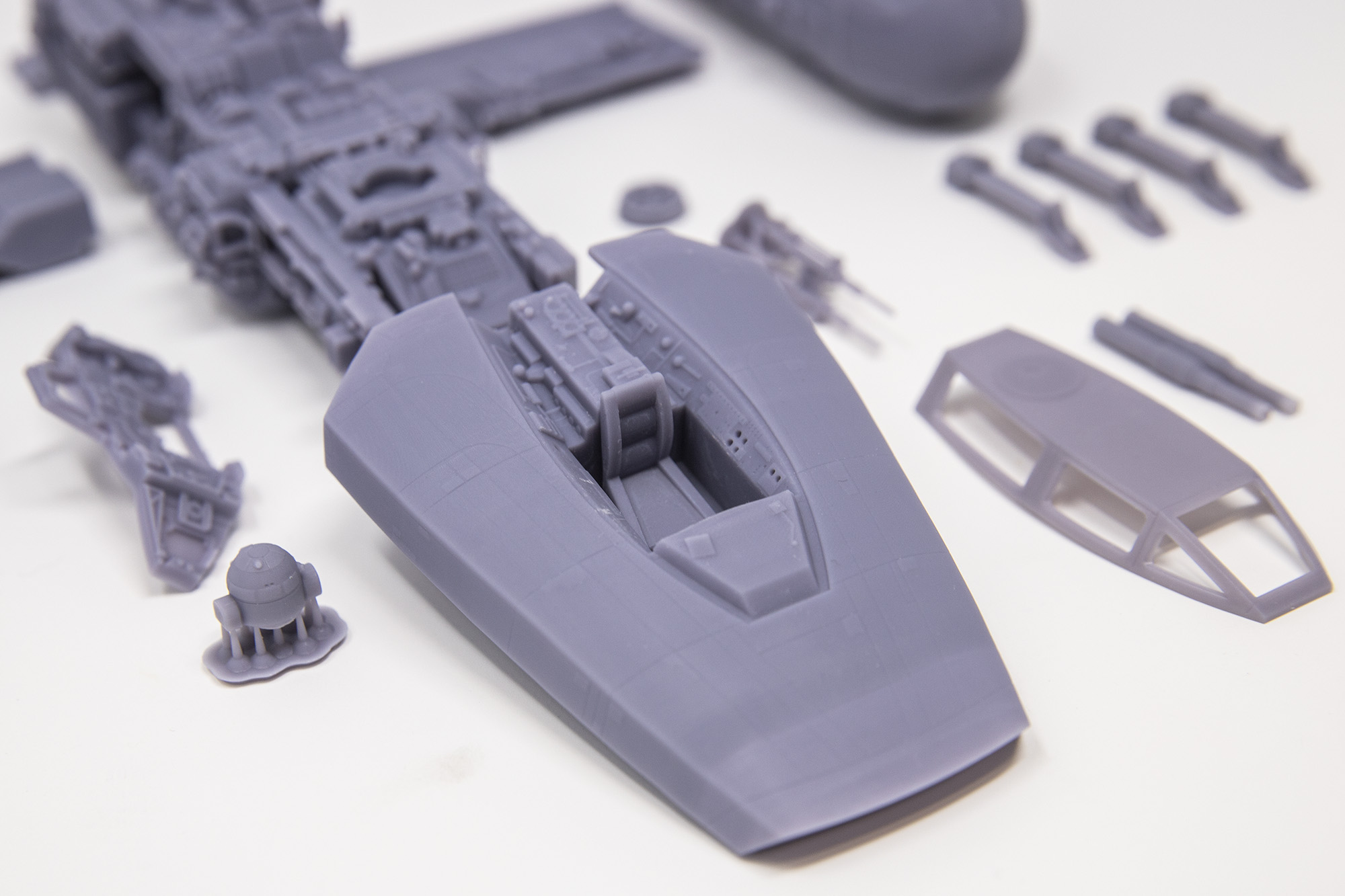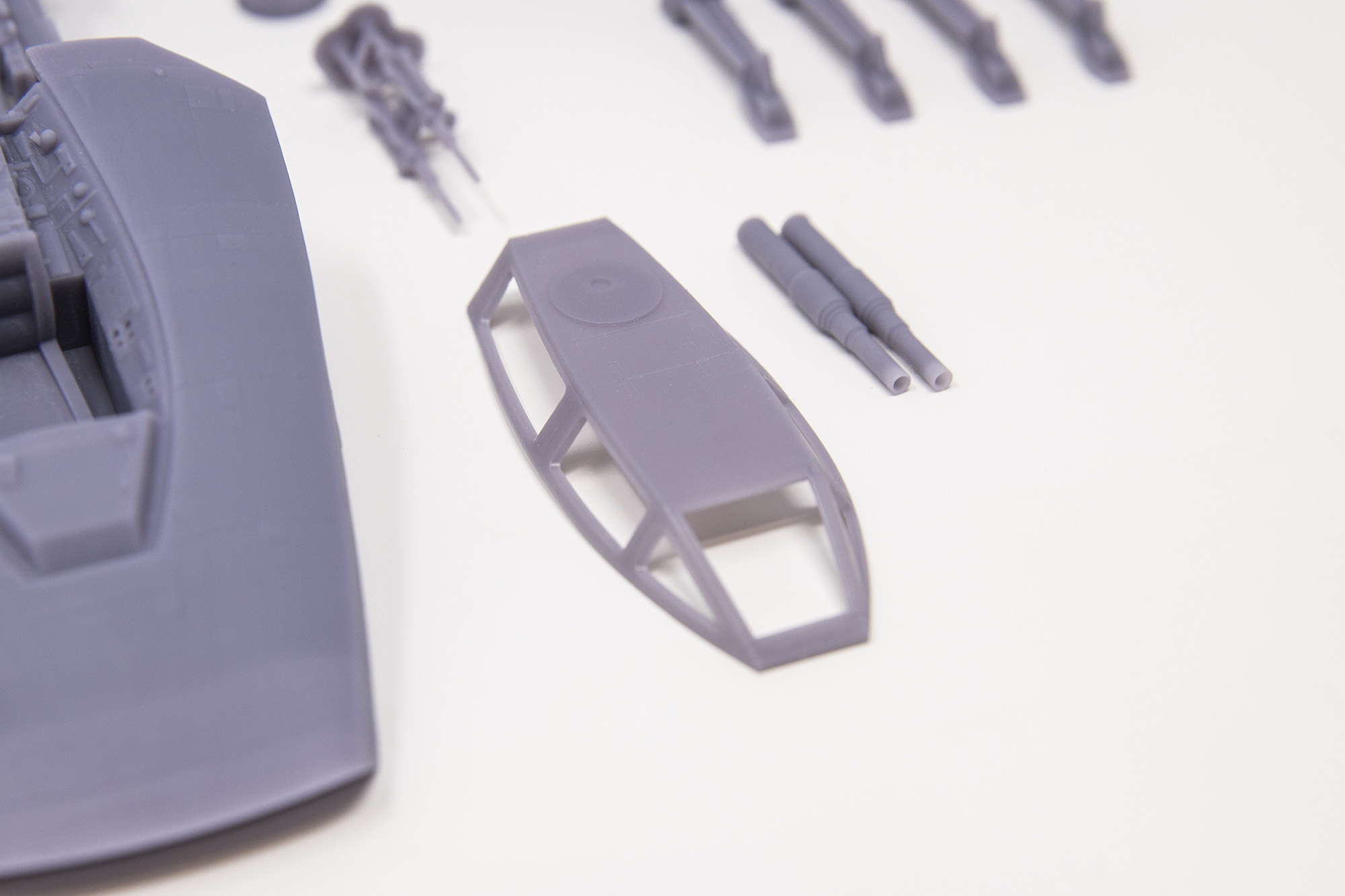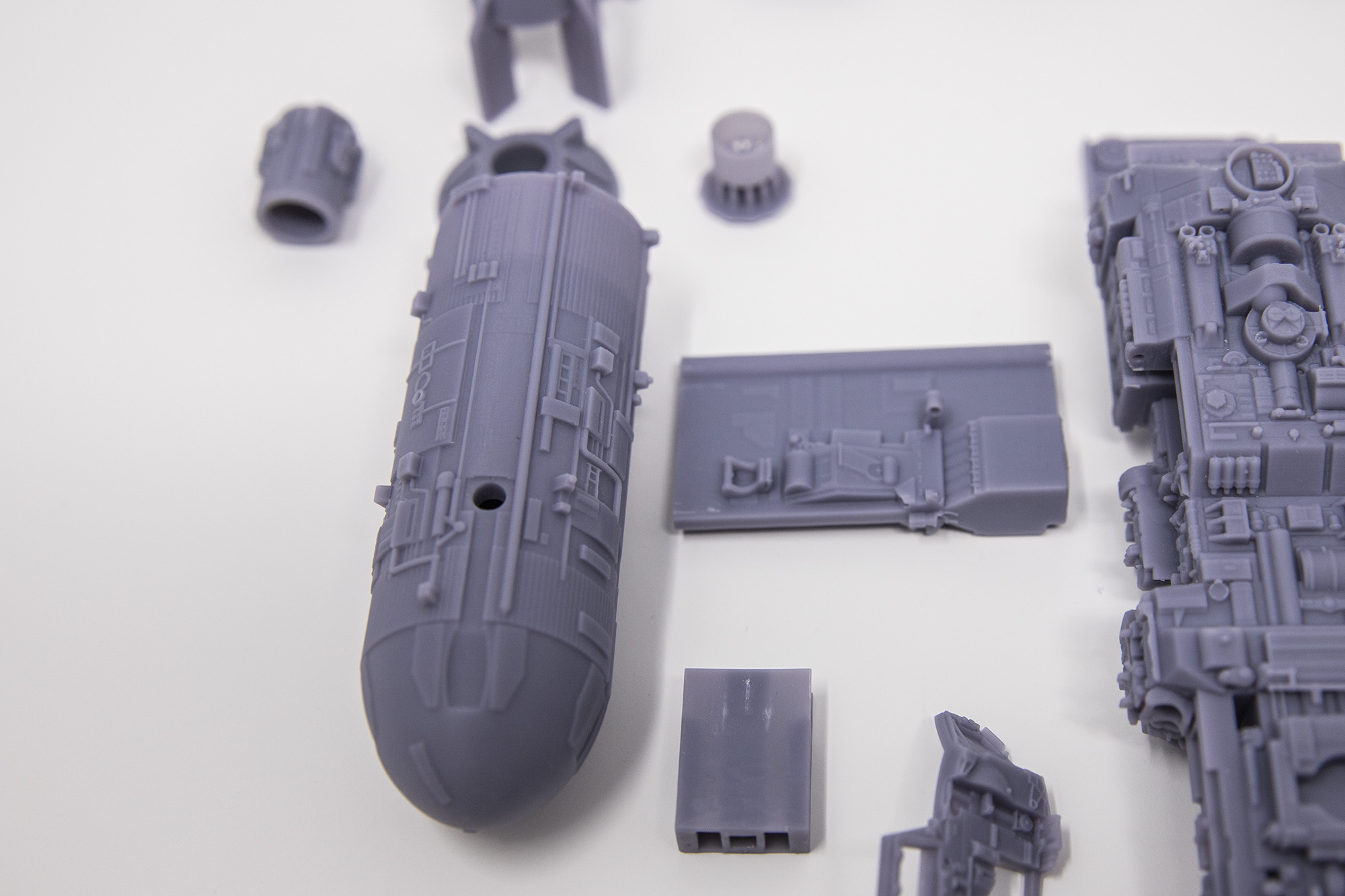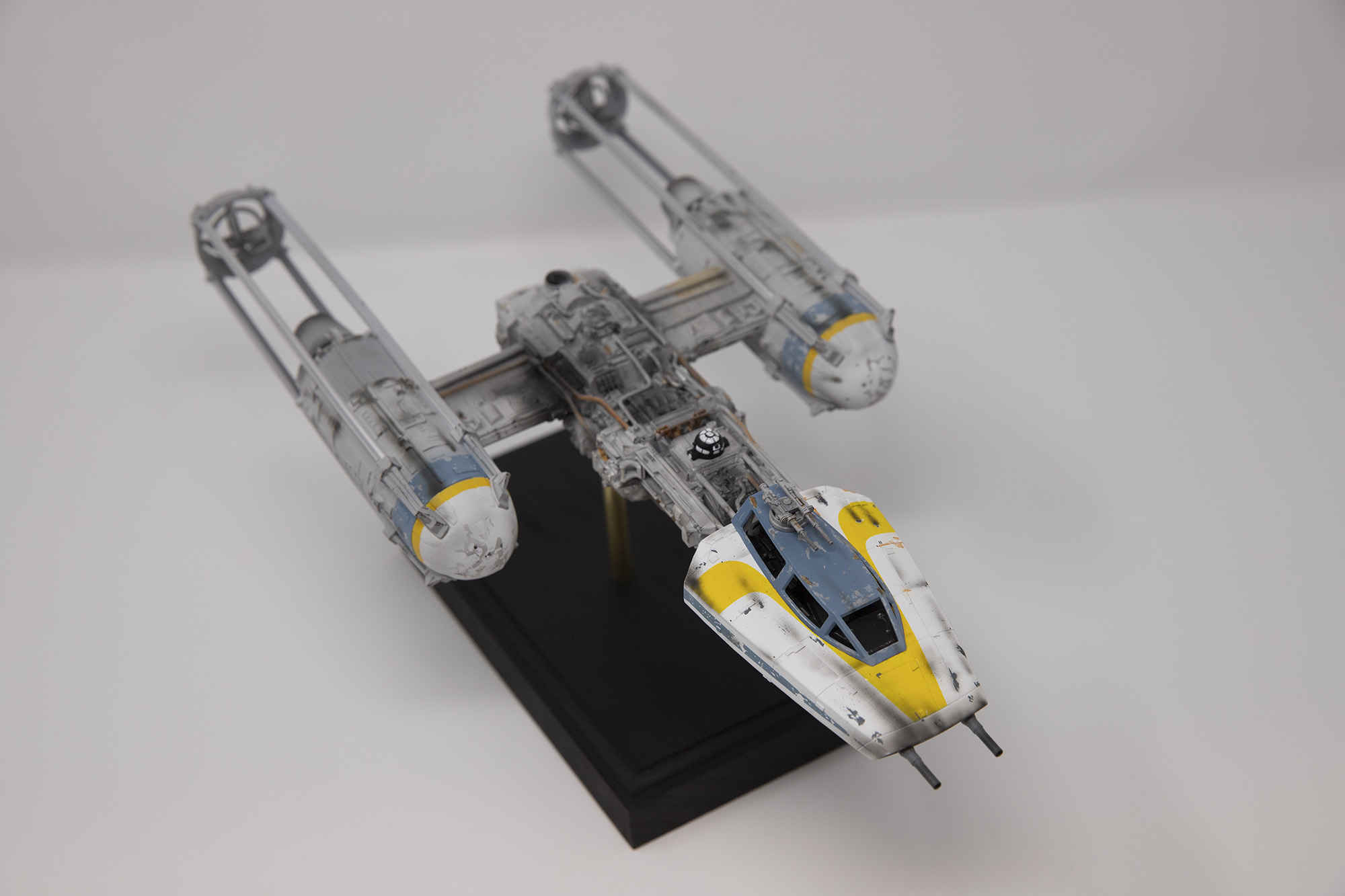 And here is a size comparison between the Bandai 1/72 model and this kit:
You can see more build photos and completed photos in my WIP thread at the top of this post if you're interested.
Please let me know if you have any questions!
SB
Last edited: